Wildcats calm in face of hype storm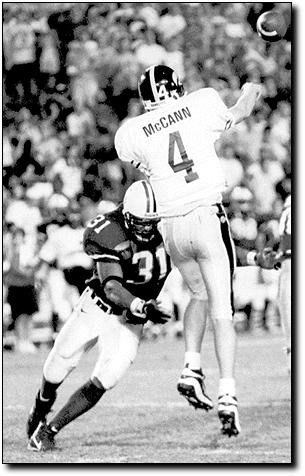 Nicholas Valenzuela
Arizona Daily Wildcat

UA linebacker DaShon Polk (31) hits Iowa quarterback Kyle McCann (4) just as he releases the ball Sept. 19. Polk will enter Saturday's game vs. UCLA with 20 tackles and 1 sack.


It's the spotlight game on ESPN.com.

It's caused a swarm of media and a sellout crowd to descend upon the team.

So in case there's anyone who's been in a cave for the past few days, it's Saturday's game between No. 10 Arizona and No. 3 UCLA at Arizona Stadium.

But amid the gathering storm, the Arizona players remain focused.

"I don't think about the hype," junior linebacker DaShon Polk said. "It's a big game, we know that, but we're just taking things one game at a time and not losing our concentration."

Senior cornerback Chris McAlister, who generated his own hype when he was suspended from last week's game at Washington by the NCAA, said the philosophy the team approaches the hype with is a simple one.

"It's easy to get distracted if you listen to it," he said. "But our team isn't paying attention to what the media and the fans are all saying. We're focused on what we have to do."

Redshirt freshman free safety A.J. Brown said the team has been prepared for the overt amount of attention since early in the year.

"Coach (Tomey) told us from the beginning that once we started winning we'd get more attention," he said.

Brown, who will be starting for the first time this year after junior Rafell Jones was suspended for the first half of the game for fighting last week, said that the veterans have been helping the coaches in keeping the younger players' heads on straight.

"They're keeping our heads in the game," Brown said. "We've got a lot of great leaders like Kelvin Eafon, Chris McAlister. They get all the attention all the time so they know how to handle it."

Polk said that the younger players are "having a lot of fun."

"The freshmen haven't experienced losing yet," he said. "And we don't want them to. The younger guys know it's going to be hard, but they'll be ready."

Brown admitted he is nervous going into his first game as a starter.

"The coaches told me to go out and treat it like a scrimmage," he said. "But I've got a great guy in Rafell Jones behind me. On most teams you don't see the first string guys helping out the second string. Most of the time it's a jealousy thing, but not with us."

The McKale Ticket Office announced yesterday that the game had sold out all 57,803 seats at Arizona Stadium.

Arizona's 1994 game against UCLA drew a total crowd of 58,817, including media and game support personnel, the second largest in history. The biggest was the 1996 UA-Arizona State debacle, which pulled in 59,920.

"It's good," Polk said of the news of the sellout. "We're winning now, so that's expected. And it's Family Weekend and all, so of course we should get a big crowd."

Polk called the crowd "our 12th man," and said the team is counting on them to help hamper the Bruins' attack.

As for Brown, he's keeping an eye on the clock.

"I'm counting down the minutes, sure," he said. "And I'm just trying to stay focused.

"This is my chance. I know they'll come at me, so I have to be ready."

Chris Jackson can be reach via Chris.Jackson@wildcat.arizona.edu.