Talbot accepts challenge of Wildcat volleyball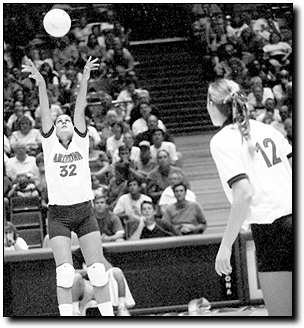 Nicholas Valenzuela
Arizona Daily Wildcat

UA freshman outside hitter Jill Talbot (32) sets the ball for middle blocker Marisa Dalee (12) during a match vs. Stanford. In last Friday's game against Oregon State Talbot hit .857 with 12 kills against the Ducks in Eugene.


After a rough game last Friday night against Oregon State, UA volleyball freshman Jill Talbot turned her playing around to come out on top against Oregon.

Outside hitter Talbot hit .857 with 12 kills against the Ducks in Eugene. She would now hold the Arizona record for hitting percentage if she had met the NCAA minimum of five attacks per game.

"I don't know what to say," Talbot said of her performance. "Except that I had a good time. With Oregon State, I was just not playing good offense, so I wanted to prove to myself that I could pick things up."

The Wildcats walked away from the weekend with two wins, boosting their perfect road record to 8-0.

"After struggling through the game on Friday, I threw out a challenge to Jill," UA volleyball head coach Dave Rubio said.

Rubio said he would quit starting her if she was struggling offensively. And after a rough practice Saturday, Talbot remained on the bench for the start of the first game against Oregon, which the Wildcats lost, 15-7.

"After we lost our first game, Jill came in on fire. I told the girls just feed Jill wherever she is," Rubio said.

Rubio's words were sound advice, propelling the Wildcats to victory.

"I'm trying to get Jill to meet the evolution for attacking, to not be predictable with her hitting," Rubio said. "And Jill pulled this off on Sunday. She gets by on her sheer determination and athleticism.

"As soon as she catches up on her skills, as she continues on with the program here, she'll be a pretty special player."

Talbot is developing into that player after some impressive play early in the season, especially for a freshman.

"So far, everything has been a major transition for me (from high school to college)," Talbot said. "It's a totally different level of volleyball for me. It's fast-pace, in-your-face every time."

Talbot graduated from Mt. Carmel High School in San Diego, Calif., where she competed in volleyball and basketball all four years, as well as a couple of seasons of track and field and softball.

During her high school volleyball career, Talbot earned First-team All-Palomar League and All-CIF honors as a senior. She was also named her high school's Athlete of the Year.

"Coming to the U of A was the best decision for me," Talbot said. "It has everything I need, a strong volleyball program, it's a big school and you get a lot of outside support. It's the whole atmosphere, it's fun to play here and I have a great coach."

Rubio seemed to be just has pleased with Talbot's decision to become a Wildcat.

"Jill is a stable player and a great competitor," he said. "She's the kind of player innately gifted to press on. She doesn't buckle under pressure, she performs."

Talbot proved herself over the weekend, but she said it wasn't anything in particular that contributed to her phenomenal performance.

"It wasn't one thing that I worked on or planned on doing. I was surprised myself, too," She said. "I was just out there and I was on a rush and it felt good. So I thought, whatever it takes for a win (I'll do)."

And hitting .857 proved to be what helped Talbot lead her team to a victory.

"Jill is a terrific collegiate player whose potential in unlimited," Rubio said. "She will develop into a great leader for our team."

He attributed her funny and upbeat personality to her strength in leadership.

"We have a great player here," Rubio said. "I have no doubts on the great things she will do."

Talbot will have a chance to test out her potential this weekend at home, with her mom, Nancy, "among the sea of people in the crowd," she said.

The Wildcats will take on the UCLA Bruins Friday night at 7, and the Trojans of Southern Cal on Sunday afternoon at 1.

"I'm going to get out there on the court and make a difference," Talbot said of her goals for this weekend and the games to come. "I want to get some experience at this level, and leave a mark out there. Oh, and have a good time, too."

Kate Longworth can be reached via e-mail at Kate.Longworth@wildcat.arizona.edu.