UA assets earn awards for putting students first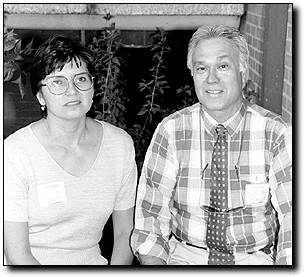 Randy Metcalf
Arizona Daily Wildcat

Socorro Vasquez, assistant director of the University Learning Center (left) and political science professor John Garcia received awards from President Likins, yesterday in the Memorial Student Union, for their contributions to The University of Arizona. Vasquez received recognition for outstanding dedication for her tutoring at the learning center and Garcia received the Faculty Achievement Award for his work with Chicano students.


Every student can remember one mentor who really made a difference.

The Hispanic Alumni Association honored two such University of Arizona employees for exerting tremendous effort to ensure the success of their students.

Professor John Garcia received the Faculty Achievement Award, and Socorro Vasquez, assistant director of the University Learning Center, won the Recognition for Outstanding Service honor last night in the Memorial Student Union's Arizona Ballroom.
John Garcia
Maybe you have seen political science professor John Garcia whiz by on his 10-speed wearing casual attire, running around campus in shorts, debating political issues on television - or most commonly through his office's permanently open doors.
The dynamic professor was honored last night by the Hispanic Alumni Association for his contributions to pupils.
As a UA professor for 17 years, Garcia knows the ropes of college curriculum.
"He puts forth tremendous effort towards the success of students," said Mercy Valencia of the UA Hispanic Alumni Association.
Garcia understands the necessity of support.
As a senior at the University of Texas, a professor encouraged him to pursue his interest in politics by applying to graduate school. Garcia hopes to have the same influence on his students.
"He develops students, listens to them, talks to them," said Hispanic Alumni member Gloria Alvillar.
In the 1980s, Garcia was active in the Students at Risk program, geared toward freshmen and sophomores. The program identified students at risk of attrition and provided them with both academic and emotional support.
"Mentoring allows personal connections, mutual friendship and respect," Garcia said.
Garcia's input has been elemental to the success of Movimiento Estudiantil Chicano de Aztlan, Alvillar said.
Garcia also proposed and helped implement Students Mentoring Faculty, a semester-long program in which students attend seminars on listening skills, learning styles, and gain insight on the teaching process.
"Students are valuable to making teachers better," he said. "The exchange is important because teaching is not a one-way process."
While teaching graduate students, Garcia said he learned the importance of interactive teaching methods.
"The idea entrenched in graduate students is that teachers give and students receive," he said. "It pushed me to be more open and explore other teaching methods."
Alvillar said Garcia opens his heart for students - not just a textbook.
"He is passing on the legacy of how he values teaching," she said.
Socorro Vasquez
"The whole time Socorro walks around campus she is saying hi to kids," Alvillar said. "She is so personable and caring."
Socorro Vasquez has been involved with the University's retention programs for the past 17 years.
Vasquez is assistant director of the University Learning Center, where she said her main focus is "providing the best service for freshmen."
"My job is to help students use resources, ask questions and know that they can do their best," Vasquez said after pausing momentarily to make sure one student in the center found a tutor.
Vasquez's relationship with the UA began when she was enrolled as a speech and hearing undergraduate. She became involved with the New Start Program, which provided tutoring and other services to UA students.
Although the program was discontinued in the 1980s, it was the catalyst for Vasquez's decision to apply for a tutoring coordinator position with a federally funded tutoring program.
"I graduated because of the New Start Program," she said.
In 1993, Vasquez helped form the Freshman Year Center, which made free academic advising and tutoring for freshmen a reality.
"This job doesn't grow old," Vasquez said about her work at the center. "It is demanding, and there is always something you can do to make it better and more effective for students."
One of Vasquez's goals at the learning center is bringing students closer together.
"The connection makes small communities within large communities," she said. "Part of the job is to create these small communities."
Students say Vasquez's philosophy of personal interaction makes her an asset to the university.
"Personally, Socorro has helped me a lot from getting into nursing school to making future plans," nursing senior Anabell Castro said. "I sincerely know I can count on her for anything."
Genevieve D. Cruise can be reached via e-mail at Genevieve.D.Cruise@wildcat.arizona.edu.