Women focus on workplace, encouragement at TCC expo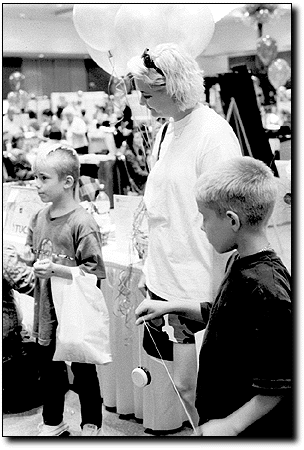 Jennifer Etsitty
Arizona Daily Wildcat

From left: Nine-year-old Jordan Gilliam, his mother Stephanie Gilliam and 8-year-old brother Tommy Gilliam explore the exhibition at the 13th annual Business Women's Expo at the Tucson Convention Center Ballroom last night. Nearly 3,000 participants came to celebrate the spirit of women.


More than 125 Tucson-area companies owned by and that cater to women filled the Tucson Convention Center yesterday to promote ambition in the workplace.

Nearly 3,000 people - including University of Arizona students - attended the 13th-annual Business Women's Expo, said Donna Reed, president of Resources for Women, an event sponsor that promotes business networking.

"Typically it has been a 'good ole boy' world," she said. "Now we (women) can benefit (from helping each other)."

Women owned more than half of the businesses at the event, Reed said.

The fair showcased opportunities for women, Vice Mayor Shirley Scott said.

"Sometimes when women go into business they feel they are competing with giants," Scott said. "This shows that they are not alone and they can exchange ideas."

Businesses participated in the free forum to increase their visibility and to acquire new clients and contacts, Reed said.

Proceeds from the fair are used to help women return to school, she said. Usually four or five women can attend Pima Community College for a semester with the $305 and $355 each business shells out for a booth.

Advanced DermaCare, Buffalo Exchange, El Dorado Audiology and Joe Cristiani's Mobile Communications representatives and others were at the event.

In a "non-traditional field," women have to work harder than men, said Gabrielle Giffords, president of El Campo Tire.

"We are a woman-owned company and I think it is important to have our presence at a women's expo," Giffords said. "There are a lot of strong (Tucson) business women. They tend to take you under their wing."

Clare Scales, public coordinator for H & R Block, said she was looking to hire UA students and to inform the public about tax policies.

"We came for the first time last year because it is a very good vehicle to talk to the tax payers of Tucson," Scales said.

Beauty consultant Sharon Turner said Mary Kay Cosmetics has many job opportunities for women.

"It is not just going around and spritzing perfume on people," Turner said. "You can become a millionaire and drive three cars."

Stephanie Gilliam, a social counselor at the Brewster Center for domestic violence, said she came to the fair in hopes of furthering her career and to investigate jobs for women who visit her facility.

"People can talk (here) about how to stratigize," Gilliam said. "I think it is interesting - some of the strategies of women selling two and three products to create a living, which is always a trick."

Gilliam's 9-year-old son, Jordan, said he had fun "Because I have been collecting a lot of stuff and eating a lot of candy." Jordan got a free Frisbee, coloring book and pens along with the candy.

Real estate appraiser Ginger Nichols, 28, said she came to see what the fair had to offer.

"I work 12 hours a day," Nichols said. "I don't have time to network. You can come here to get it all done at once."

Rachael Myer can be reached via e-mail at Rachael.Myer@wildcat.arizona.edu.