Now it's showdown time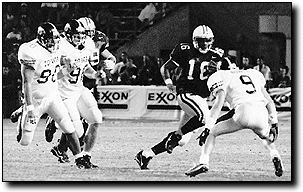 Katherine K. Gardiner
Arizona Daily Wildcat

Sophomore quarterback Ortege Jenkins (16) runs past Iowa defensive back Matt Bowen (9) Sept. 19 at Arizona Stadium. The No. 10 Wildcats will face the No. 3 UCLA Bruins at 7 p.m. Saturday night at sold-out Arizona Stadium.


No more hype, no more talk.

Tomorrow night it all comes down to what's on the field.

The 10th-ranked Arizona Wildcats and No. 3 UCLA Bruins go head-to-head at Arizona Stadium at 7 p.m.

"It's really exciting to play in a meaningful game," said UA head coach Dick Tomey.

While Tomey doesn't like to talk about anything beyond the present, the game is obviously important to the race for the conference title.

The Wildcats (5-0 overall, 2-0 Pacific 10 Conference) play four of their next six games at home, and both road games are against unranked teams. A win against UCLA (3-0, 1-0) would give Arizona the inside track toward a Rose Bowl bid.

Arizona enters the game minus three of its defensive backs, while UCLA is without its starting running back and top wide receiver.

UA lost cornerback Leland Gayles to injury last week, while free safety Rafell Jones was suspended for fighting and strong safety LaChaux Rich is still recovering from a foot injury suffered against Iowa.

The Bruins suspended running back Jermaine Lewis after he was involved in a fight off campus, while wide receiver Freddie Mitchell went down against Houston.

"Not really," said senior cornerback Chris McAlister when asked if Lewis' suspension will force UCLA to pass the ball more. "They have three talented backs, so I'm sure they'll try to stick with the game plan as usual."

Replacing Lewis will be freshman DeShaun Foster, who has 151 yards on 25 carries and one touchdown. Junior Keith Brown, who has 37 yards on 14 carries and two touchdowns, also figures to see a lot of time out of the backfield.

The Arizona defensive line, which all but shut down Washington's running game last week, will be called upon to hit the Bruins hard.

"We just need to execute our game plan," senior defensive tackle Daniel Greer said. "There's a lot of good things and a lot of bad things I saw last week. But we won the game, and I don't like to get too technical about all the little things."

McAlister and the defensive backs, on the other hand, will have to contend with an experienced Bruin passing attack led by Heisman-hopeful quarterback Cade McNown.

"I really haven't had the chance to study them," said Jones, who will be able to play in the second half of the game when his suspension ends. "But they're on a roll right now, so we'll have to be ready. But we're on a whole other level, too, so we can take them."

McNown is 51 of 89 for 859 yards and five touchdowns this season, but he has yet to face a good defense, having crushed Texas, Houston and Washington State.

"The three teams they've played they've blown away," Tomey said. "We can't find any chinks in their armor yet."

McNown's favorite targets are Danny Farmer (13 receptions, 281 yards, 1 TD) and Tucson native Brian Poli-Dixon (10-191, 4 TD).

"We have the ability to get to him," freshman defensive end Eli Wnek said of McNown. "He's a great athlete and put up a lot of great numbers. I'm going to have to play a lot better this week."

On the opposite side of the ball, Tomey has been impressed by UCLA's steadily-improving defense.

"They made a real concerted effort to improve their defense last week," Tomey said, noting how the Bruins chose to kickoff to start the game against WSU.

UA junior quarterback Keith Smith has been watching tape on the UCLA defense all week.

"We know UCLA likes to blitz a lot," he said. "We need to do a good job of reading it."

The UCLA defensive backs are a carbon copy of the UA backs, with man-to-man coverage on the wide receivers.

"We like those chances of our receivers on a one-on-one level," Smith said.

With Smith (51 of 74, 782 yards, 6 TD) and sophomore Ortege Jenkins (31 of 63, 481 yards, 3 TD) lobbing bombs to junior wide receiver Dennis Northcutt (31-550, 4 TD) and senior Jeremy McDaniel (26-375, 5 TD), the Bruins will have their hands full.

McDaniel suffered a groin pull against Washington, but Smith said he seems to be feeling better now.

"When game-time comes he'll be fine, I'm sure," Smith said.

Arizona will also have junior Brad Brennan back from an ankle injury and McAlister will be available for some offensive plays.

Junior running back Trung Canidate (62 rushes, 321 yards, 3 TD) said that the Wildcat ground attack is fired up to have a breakout game.

"This year we've been running like an average team," he said. "We've got to start doing better. We can go out and get 1,000 yards with this team, or we can get zero. We just have to be ready for the challenge."

Chris Jackson can be reached via e-mail at Chris.Jackson@wildcat.arizona.edu.