McNown's Heisman train stops in Tucson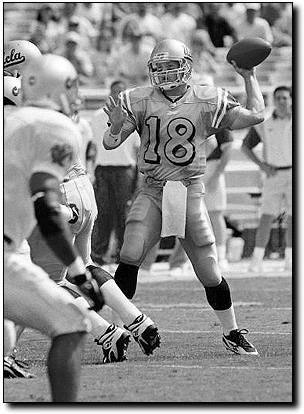 Wildcat File Photo
Arizona Daily Wildcat

Cade McNown, UCLA quarterback


The Heisman Trophy brings prestige and recognition to the winner and the school it represents.

It also raises the draft status and fattens the wallet size of the honored player after he gets drafted.

The pre-Heisman hoopla, though, just brings media attention and pressure for the guy to perform.

No one knows this better than UCLA senior quarterback Cade McNown.

"I'm indifferent to most of the hype," McNown said. "All I am trying to do is help the team win ball games."

With the Bruins (3-0 overall, 1-0 Pacific 10 Conference) ranked third in the nation and McNown second in the Pac-10 in total offense and 10th nationally, he has done his part in helping his team.

For the season McNown has completed 51 of 89 passes for 859 yards and five touchdowns while leading the Bruins to victories over Texas, Houston and Washington State.

McNown has also set a school record by throwing for more than 200 yards in each of his last 18 games.

"McNown is a terrific player," UA head coach Dick Tomey said. "I just really respect his toughness and his competitiveness."

Tomorrow night in front of a sea of red in Arizona Stadium, McNown will face his toughest challenge all season in Wildcat senior cornerback Chris McAlister.

When asked if he was going to stay away from McAlister, McNown replied, "We are not going to go after him, but we certainly are not going to shy away from him."

To that McAlister said, "I hope he's not. I live for challenges like that."

McNown has been a staple behind the center for UCLA since 1995.

That year as a freshman he threw for 1,698 yards on 122 of 245 passing.

He upped those stats in 1996 by going 176 of 336 for 2,424 yards, but he peaked last year when he threw 24 touchdowns and only six interceptions while going 189 of 312 for a UCLA record 3,116 yards.

McNown has started 34 straight games for the Bruins and during that span he has set school records in completions, career passing yards and career total offense.

His 1997 bio includes being one of the three finalists for the Davey O'Brien National Quarterback award, placing eighth in balloting for the Heisman and being named a third team All-American.

One can throw all that out the door come 7:15 p.m. tomorrow when McNown and the Bruins take the field to battle for what some see as the right to go to the Rose or Fiesta Bowls.

"We are just looking at this game as the biggest one of the year," McNown said. "For us to have an opportunity to play in the major bowl games, this is crucial."

With the Wildcats looming, McNown knows that the Bruins are where they hoped to be but have a long season still ahead of them.

"We hoped to be where we are and we are there," he said. "Right now we are just concerned with winning this game and we can't get too far ahead of ourselves."

Dan Rosen can be reached via e-mail at Dan.Rosen@wildcat.arizona.edu.