V-ball squad looks to beat Bruins too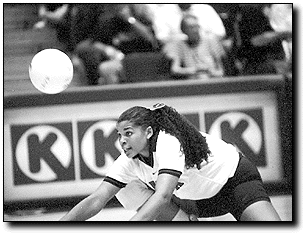 Nicholas Valenzuela
Arizona Daily Wildcat

Sophomore outside hitter Allison Napier (7) digs for the ball Sept. 25 against Stanford at McKale Center. Tonight at 7 the Wildcats play UCLA at McKale Center and USC on Sunday at 1 p.m.


If fans can't wait for Saturday night's football game against UCLA they should get to McKale Friday at 7 p.m. to cheer on the UA volleyball team against the Bruins.

While it's been an exciting week for those associated with the university and its football program, the volleyball team has been quiet, saving its energy for the big match.

After spending most of the season on the road, the team is just happy to be staying at home.

"We're probably more excited that it's parents weekend more than anything," senior middle blocker Keisha Johnson Demps said. "UCLA is a big game and there would still be a lot of energy."

Assistant coach Charita Johnson shared her enthusiasm for the game.

"I don't think it's an advantage to play before the football game," she said. "But it is an exciting match and an exciting weekend."

Arriving home from Oregon late Sunday night and with the players taking midterms all week, practices have been cut short in an attempt to reduce fatigue.

"That's the biggest thing that has happened to us," head coach David Rubio said. "It's been difficult on the kids physically and mentally from all the demands."

Players have come in during the morning to work on their games individually, something Rubio feels will help in the long run.

"You can't continue to play or grow to another level unless you have a good foundation in fundamentals," Rubio said. "We need to consistently perform for a sustained amount of time."

UCLA (3-8 overall, 3-2 Pacific 10 Conference) is much better than its record indicates. The Bruins played the Pac-10's most difficult non-conference schedule, taking on ranked teams like Hawaii and Nebraska.

"UCLA is big, physical and a very athletic team," Rubio said. "They are a team that's growing and getting better every week."

Southern Cal (9-3, 4-1), whom the Wildcats play Sunday at 1 p.m., was the preseason conference favorite. The Trojans lost to Stanford early in the season, but had many players out with injuries.

"SC is the best team in our conference, even though they lost to Stanford," Rubio said. "They are a very experienced and a savvy team."

For Johnson Demps, USC is her own personal arch-rival.

"Personally, I have a thing with USC," she said. "I don't like them in any sport."

Bryan Rosenbaum can be reached via e-mail at Bryan.Rosenbaum@wildcat.arizona.edu.