All work, now it's time to play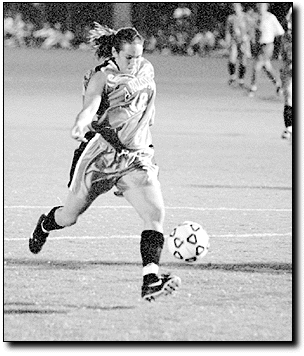 Ian Mayer
Arizona Daily Wildcat

Sophomore midfielder Brooke McManus (18) runs the ball down field in her Sept. 23 game against Denver. The Wildcats play California tonight - where McManus will square off against her sister, senior defender Ryan McManus - and Stanford Sunday in California.


After a 10-day rest period, the UA women's soccer team is ready to open its Pacific 10 Conference schedule this evening at California and Sunday afternoon at Stanford.

The Wildcats stand at 3-4-1 after six games on the road and two recent wins at home.

"Everyone had a chance to catch up and realize we are in school," said assistant coach Bruce Caris, referring to the team's lengthy practice schedule. "The team is pretty healthy. The players are rested and coming off a good level of intense practice."

Caris is the only member of the squad that will not be traveling to the Bay Area with the team. He will be on a recruiting trip in Virginia.

Junior defender Michalle St. John will also be out of the games this weekend, as she continues to nurse an injury suffered this spring. Freshman midfielder Marisa Padula is the other player watching from the sidelines this weekend. Padula is recovering from ACL surgery and hopes to return to the line-up next week to face in-state rival Arizona State.

Caris said he hopes that the long break, injuries aside, will prove to be a positive aspect for the Wildcats going into this weekend.

"We were able to look at a couple areas of the game and focus in on possession and different defensive tactics," Caris said. "We (coaches) were able to talk with the players during this block of time to digest some adjustments we wanted to make as a team."

The Wildcats will have their first chance to put those tactics to the test against the Golden Bears.

"California will be a competitive team," Caris said. "They have a very similar record to us."

The Bears, 5-5-0, are coming off three losses in their last four games. Today's game is their third in the midst of a five-game homestand.

This will be a big game for sophomore midfielder Brooke McManus, who will match up with Golden Bear defender senior Ryan McManus, who just happens to be her sister.

The Cardinal will pick up the next game with the Wildcats to conclude the brief road trip.

Stanford is ranked No. 3 by the NSCAA regional rankings, and 10th in Soccer America's top 20 list.

"Stanford has many good players and they are coached very well," Caris said. "But if we play hard and put the ball in the net, I think we're prepared to win."

Arizona has had no problem keeping up with or outshooting its opponents in its first eight games. The team has just been struggling with finishing its shots.

Freshman midfielder Twila Kaufman has found the back of the net four times, leading the Wildcats in scoring. Right behind her is senior forward Nikki Jones with two goals and four assists.

If the Wildcats pull off wins this weekend, head coach Lisa Fraser will come home with career win No. 100. She now stands at 99-119-18 in her 15-year coaching career.

Last year, the Wildcats fell at home to the Golden Bears 2-0 and to the Cardinal 5-2.

Kate Longworth can be reached via e-mail at Kate.Longworth@wildcat.arizona.edu.