Terry, Bramlett set to lead young Wildcats to success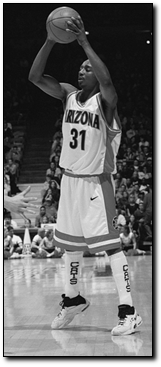 Wildcat File Photo
Arizona Daily Wildcat

Senior guard Jason Terry (31) looks to pass the ball during a game last year. Terry will lead the Wildcats as a full time starter after Mike Bibby's departure to the NBA.


After losing three NBA draft picks, the Arizona men's basketball team could be excused for taking a "wait until next year" type of attitude.

After all, this year's highly touted recruiting class will have a year to mature, Loren Woods, a 7-foot-1 transfer center from Wake Forest, will be eligible in 1999, and there will be a couple of new freshman additions to the team, highlighted by Jason Gardner, the nationally top ranked point guard from Indianapolis who gave a verbal commitment to the Wildcats over the summer.

But talk to Jason Terry, who as a senior will finally get a chance to lead Arizona as a starter, and it's obvious the Wildcats are all about winning this year, and winning big.

"Every time we step on the court we are looking to win," Terry said. "They don't think we'll be as strong as we know we're going to be."

Terry and fellow senior A.J. Bramlett have been pegged by head coach Lute Olson as the leaders of the team, something Terry said he has been waiting for a long time after watching Reggie Geary, Ben Davis, Miles Simon and Michael Dickerson hold that position before him.

"That's our job now," he said. "It's our time to take that role."

Terry said he and the other veterans on the team, including junior Josh Pastner, have been helping freshmen like forward Michael Wright and shooting guard Ruben Douglas make the transition from high school to college basketball.

"Right now we're looking at two or three freshman starters," Terry said. "I don't know (if they're ready) mentally yet, but they have the physical tools."

But as much as Terry is interested in helping the freshman get better, he said he's not above making a little money in the process.

Terry, Bramlett, Eugene Edgerson, Justin Wessel and Simon, who is back in town working out while the NBA is in a work stoppage, took on a freshman team consisting of Wright, Douglas, Richard Jefferson, Traves Wilson, Luke Walton and Ricky Anderson.

To boost the competitive spirit, Terry made $20 bets with several of the freshmen.

"I told them they wouldn't win a game and they didn't," Terry said. "A couple of them still owe me money."

He did say that he would allow his teammates to make the money back in future games.

Along with Simon coming back to town, a number of other UA alumni, including Michael Dickerson, Ben Davis and Damon Stoudamire, have been playing pickup games against the younger players. Mike Bibby is expected to join the crew Wednesday.

"They play really hard and aggressive," Wright said. "You've got to play hard if you want to win."

Pastner, who is just as much of a coach as he is a player, said the freshmen would learn a lot from playing guys with professional skills.

"The guys are getting to guard NBA players," he said. "They're always willing to share info."

But as was the case in past years, Terry said this team's main strength is the character and chemistry between the players, despite the influx of new talent.

"Coach always recruits players that go well with the players we have," he said. "Everything we lost we got back, except we don't have somebody like me coming off the bench."

Seth Doria can be reached via e-mail at Seth.Doria@wildcat.arizona.edu.