Soccer trying to recover from tough trip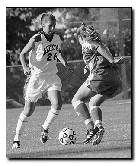 Aaron Wickenden
Arizona Daily Wildcat

Freshman forward Kimberly McGehee (26) takes the ball down field while an NAU player tries to strip it from her. The UA soccer team opened Pac-10 Conference play over the weekend and lost to Stanford and California.


The UA women's soccer team fell behind the pack in games over the weekend, losing to Cal, 4-1, and Stanford, 8-1.

The Wildcats (3-6-1 overall, 0-2-0 Pacific 10 Conference) traveled to the Bay Area to open conference play Friday evening against the Golden Bears (7-5-0, 2-0-0) and Sunday afternoon against the Cardinal (7-3-2, 1-1-0).

"I don't know what to say," sophomore midfielder Brooke McManus said. "We didn't really have a bad game. Everyone gave 100 percent."

But apparently the other teams' 100 percent was better.

For the first time this season, the Wildcats struggled with matching and outshooting their opponents as Cal outshot Arizona by a 23-10 margin and the Cardinal led 20-8.

McManus and freshman forward Kim McGehee walked away with the Wildcats' two lone goals for the weekend.

"Personally, I think scoring comes from the individual," McManus said. "Soccer is a team sport where we're working together, but the confidence and drive to score needs to come from each person on the field. Every forward, midfielder and defender has to personally want to score."

McManus went out on the field especially pumped and ready to score Friday night when she squared off against her sister, Bears' senior defender Ryan McManus.

"I was excited for the game because this was the last time to play against her," she said.

The Arizona State soccer team shared the Wildcats' flight home and the intrastate rivalry began as the Wildcats play the Sun Devils at 6 p.m. Friday.

Kate Longworth can be reached via e-mail at Kate.Longworth@wildcat.arizona.edu.