DaLee fast evolving into one of Pac-10's finest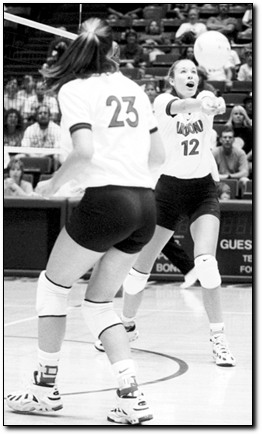 Nicholas Valenzuela
Arizona Daily Wildcat

UA sophomore middle blocker Marisa DaLee (12) sets the ball as outside hitter Lesley DuBois watches during a match versus Southern Cal last Sunday. DaLee hit .400 with 10 kills against the Trojans, adding to her 176 kills for the season.


Marisa DaLee can truly say that she was born to be a Wildcat.

Her father Ron played football at Arizona from 1969-72. He and her mother, Carla, both graduated from the UA. From her early days on, Marisa was completely surrounded by cardinal and navy.

"I grew up coming to football games, going to the basketball games when they made the Final Four and going to Joan Bonvicini Hoop Camp every summer," DaLee said. "I knew I wanted to come here."

DaLee, a 6-foot-3 sophomore, graduated from Moon Valley High School in Phoenix in 1996, and walked onto the UA volleyball team that fall. Though she had plenty of offers from other schools, DaLee chose Arizona. She redshirted her freshman year, due to the lack of a scholarship.

"I actively recruited Marisa to walk on," head coach David Rubio said. "She was a late developer and on our late-season recruit list because she played basketball. I had to really sell her the opportunity to come to UA."

The scholarship was available for her freshman year, but Rubio had guaranteed one for the following year. He fulfilled his promise and has seen DaLee become one of the best players on the team.

"Marisa came in, and within the last two years, has been one of the most improved players I have ever coached," Rubio said. "There were times during her first year here that I'm sure she wondered if she was going to make it here."

This season, DaLee is second in the Pacific 10 Conference in hitting percentage with a .362 average, just behind Stanford All-American Kerri Walsh. DaLee is one of three players to have played in all 60 games for the Wildcats this season, totaling 176 kills in that span.

"Basketball was my main sport, so I had so much to learn about volleyball because I was so young in the sport," she said. "Dave's a great coach. He only makes you better."

Lately, DaLee has been one of Arizona's go-to players. On Sunday against Southern Cal she hit .400 with 10 kills against one of the Pac-10's best teams.

DaLee was brought in last season as a substitute in key situations when the team needed her height for a quick kill or block. This season is her first as a regular starter, but she has not quite reached the status of a full-time player yet, according to Rubio.

DaLee has started in seven of the team's 16 games at middle blocker, and has led Arizona in blocks in the last five matches.

"Marisa's a pretty outstanding passer and getting better defensively every day," Rubio said. "We're planning on her becoming a full-time player at the back for us, maybe not yet, but down the line."

With a career conference hitting percentage of .343, DaLee is already showing that she is one of the top players in the Pac-10.

"She has been, offensively, one of our steadiest players," Rubio said. "She's putting up pretty consistent numbers from match to match. Marisa's been one of the reason's we've been successful."

The young Arizona team has been very successful this season, starting out 14-2. The team is third in the Pac-10 with a 6-2 record. Still a relatively new player in the conference, DaLee has the capability to lead Arizona to bigger and better things by the time her career is over.

"I never thought I'd be doing this well early on," she said. "I'm glad I still have two more years."

Bryan Rosenbaum can be reached via e-mail at Bryan.Rosenbaum@wildcat.arizona.edu.