Skieresz still smashing records in final year of college running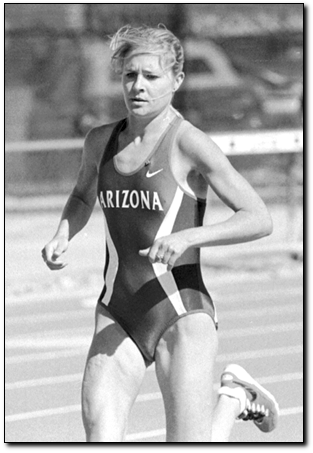 Wildcat File Photo
Arizona Daily Wildcat

UA senior Amy Skieresz runs in a track and field meet last spring at Roy P. Drachman Stadium. Last weekend Skieresz broke the record at the 5,000-meter Rim Rock Farm course in Lawerence, Kan. by 40 seconds. Skieresz is gearing up for the Pacific 10 Conference Championships at the end of this month and the NCAA Championships Nov. 23.


UA cross country runner Amy Skieresz became an early favorite for the NCAA Championships when she shattered the course record by 40 seconds last weekend at the NCAA Pre-Meet/Bob Timmons Invitational in Lawrence, Kan.

"It's always hard to express Amy's performance," cross country head coach Dave Murray said. "Because she always performs so well. She dominates at every level."

Over the weekend, Skieresz dominated at the Rim Rock Farm 5,000-meter course, which consists of tough hills cut out of the Kansas farm land. The previous course record was set at 17 minutes and 40 seconds, and Skieresz finished in 17 flat.

"It was an extremely difficult course," Murray said. "And Amy ran it extremely, extremely fast. She definitely proved she was ready for all major competition coming up."

Skieresz was pleased with her performance, but had some discrepancy on exactly what course record she broke.

"I'm a little confused about what the course record is/was," she said. "I don't think I broke the total course record, just the record set this year. I had a good run, but it wasn't that great of a time."

Murray agreed that Skieresz probably could have shaved off her time even more on this course, but that only leaves room for improvement as nationals are being held on the same course Nov. 23.

"She had a nice lead, so she kind of just cruised in," he said. "But it still was such an exceptional performance for that difficult of a course."

Skieresz's performance helped her team finish second overall in the meet.

Now a senior, Skieresz has been running as a Wildcat for four years after graduating from Agoura High School in Southern California.

She attends the UA on scholarship and is majoring in English. After graduation, she hopes to pursue a career in public relations.

Among her many accomplishments at Arizona, Skieresz was voted by collegiate coaches and athletic directors last year as one of the recipients of the Honda Award for Track and Field.

She said $10,000 was donated in her name to the UA as a result of this honor.

"Amy is a coach's dream," Murray said. "She is very talented and very acceptable to coaching ... I will be sorry to see her gone, but she still has a lot to accomplish in this year yet to come."

Skieresz shared in Murray's excitement for the duration of the season.

"I am so excited about the team this year," she said. "We have a real chance to make things happen. It's a nice motivating factor to know that I am pushing myself for my team, as well as myself. We are going to do something good at the championships, we're going to have a good showing."

Skieresz will have a couple weeks of rest from meets until the Pacific 10 Conference Championships Oct. 31 in Eugene, Ore.

The team will head to Arizona State on Friday, but Murray will not send the top three women runners, nor the top five men runners, on this trip.

"He's (Murray) guaranteed us a lot of hard workouts in the next two weeks, then it will be downhill resting for nationals," Skieresz said.

Kate Longworth can be reached via e-mail at Kate.Longworth@wildcat.arizona.edu.