UA athletic director given the highest base salary in Pac-10
By Anthony C. Braza
Arizona Daily Wildcat
August 27, 1998


Send comments to:
city@wildcat.arizona.edu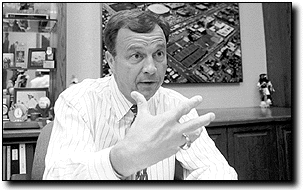 Wildcat File Photo
Arizona Summer Wildcat

UA Athletic Director Jim Livengood speaks with an Arizona Daily Wildcat reporter during an interview last year. Of all Pacific 10 Conference sports administrators, Livengood receives the highest base salary, thanks to a new pay raise.


UA Athletic Director Jim Livengood receives the highest base salary of any sports administrator in the Pacific 10 Conference, thanks to a new contract and an $11,000 annual pay raise.

And his job is secure for at least another five years.

University of Arizona President Peter Likins, whose annual pay is $95,000 less than Livengood's, said the athletic director's new deal was based on both market demand and previous accomplishments.

Earlier this month, the Arizona Board of Regents approved Livengood's new five-year agreement, worth $1.45 million plus possible bonuses that could total an additional $217,500.

The contract's value is competitive for Division I public universities, Likins said.

"It is the reality of the marketplace," he said.

The revised agreement includes a yearly base salary of $250,000, plus another $40,000 for participating in other UA activities such as fundraising, speaking engagements and public appearances - an $11,000-per-year increase over his previous contract.

An additional incentive plan allows Livengood to earn bonuses worth up to 15 percent of his total salary for specific athletic and academic achievements by UA teams and student-athletes.

For example, he can earn bonuses worth at least one week's salary if UA athletes maintain a combined grade point average higher than that of non-athletes, if athletes' graduation rates exceed the university average, and for varying levels of postseason success for any UA team.

The agreement, retroactive to July 1, replaces the final year of his previous contract and lasts until June 30, 2003.

Livengood's base salary is the highest in the conference, said Ben Jay, the Pac-10's assistant commissioner for business and finance.

But he said that is not unusual.

"Historically it (the UA athletic director's contract) has been one of the higher ones," Jay said. "The low end of the range is $125,000, and the high end is the athletic director's at Arizona."

UA Faculty Chairman Jerry Hogle agreed with Likins that the value of the contract is market-driven.

"If you want someone to come to a Division I program of this size, that is what they make, and you need to pay it," Hogle said last week.

The NCAA does not compile information on athletic directors and could not indicate where Livengood's contract fits in nationally.

Likins said the contract was intended to reflect the UA's appreciation for the way Livengood has positively changed the department.

"We have an athletic program with values - values that have not always been evident at the UA," he said. "There is a commitment to integrity and holistic development of the athlete as a whole person."

Livengood said he was happy to renew his commitment to the UA.

"I am very pleased with it," Livengood said. "I am loyal to the UA and am excited to be here to serve them for another five years."

Likins said he is confident that Livengood will not favor athletics over academics to earn his bonuses.

"The balance is appropriate, " Likins said. "Looking back, he would have earned the 15 percent both academically and athletically."

The salary of Arizona State University's athletic director falls considerably short of Livengood's.

ASU Athletic Director Kevin M. White received a contract extension in December that gives him a base salary of $222,000.

The difference - $68,000 - is about equal to the national median pay for a university professor.