CatCard's All Aboard crashes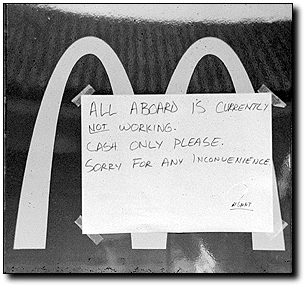 Randy Metcalf
Arizona Daily Wildcat

The McDonald's in the Memorial Student Union posted a sign warning customers the CatCard's All Aboard system was not working yesterday. The All Aboard system crashed Monday night and was down through yesterday.


The CatCard's All Aboard system endured a crash that began Monday evening and stretched throughout last night, prompting UA officials to scramble for a quick fix.

Meanwhile, some Memorial Student Union restaurant customers were forced to wait in slow lines and come up with cold cash.

Managers posted signs at the Student Union McDonald's, telling patrons that All Aboard would not be accepted, making greenbacks the only option.

All food vendors at the University of Arizona who accept the CatCard were unable to display customers' All Aboard balances. Some could not accept the card at all, forcing customers to wait while staff filled out slips of paper to record purchases.

Greg Horner, a UA support systems analyst for the Student Union, said someone loaded computer files "in error" into the All Aboard system Monday night, crashing the system.

"It's the first time in 10 years that we've been down this long," he said yesterday.

Horner refused comment about who was to blame, and said he didn't think anyone would be terminated for the mistake.

The crash forced some vendors to use "emergency charge slips," which backed up lines at some food service locations, he said.

"It was an inconvenience to our customers that we regret," Horner said.

He said some money was lost but would not give details on the amount, calling it "minimal."

The Student Union McDonald's "did probably lose business," and the manager was upset about the shutdown, Horner said.

McDonald's assistant manager David Gomez said most customers were courteous despite the difficulties.

"A lot of people did stay," Gomez said. "Their friends would pay for them (if they ran out of cash)."

But McDonald's lost business because it would not accept "off-line tickets" like other Student Union establishments, he said.

If the shutdown continues today, Gomez hopes his supervisor will have a change of heart about the tickets.

"Hopefully, my store manager will accept the off-line tickets," he said.

Stacie Gindes, a cashier in the Student Union's Fiddlee Fig restaurant, said no one explained the problem to her, except to say that the All Aboard system wouldn't show a customer's balance during the shutdown.

She swiped CatCards and charged to All Aboard yesterday without any difficulties, Gindes said.

"It's just not showing the balance," she said. "I had a couple of complaints but no one really noticed."

CatCard Director Liz Taylor said All Aboard was the only CatCard-related service affected by the glitch, and added that the card's SmartChip was still up and running.

David J. Cieslak can be reached via e-mail at David.J.Cieslak@wildcat.arizona.edu.