UA shooting guard quits b-ball team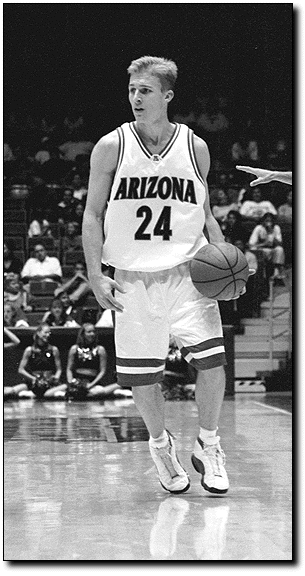 Wildcat File Photo
Arizona Daily Wildcat

Quynn Tebbs Sophomore guard


A family illness has prompted redshirt sophomore guard Quynn Tebbs to quit the men's basketball team and move home to Salt Lake City.

Tebbs, who had a chance to claim the starting shooting guard role for the Wildcats this season, said his grandfather was diagnosed with terminal acute leukemia Oct. 16 and that he has been contemplating the move since then.

"There are some things in life that are more important than basketball," Tebbs said from his home in Utah yesterday. "He's always been one of the most important people in my life. He's always been there for me and now I need to be there for him."

The 6-foot-1-inch guard said he only got to discuss his departure with coaches and some teammates, but left a message on the locker room blackboard for the rest of the team.

"I told them I appreciate all their kindness. I love them like my brothers," he said.

Tebbs said he had been away from home for so long - a two-year Mormon mission in Brazil in addition to his two and a half years in Tucson - that he didn't feel right not being with his grandparents under the circumstances.

"Given that situation, he felt he needed to be home and help," said assistant coach Jay John, who talked to Tebbs before he left yesterday.

Sophomore forward Justin Wessel, who was roommates with Tebbs during their freshman year when they both redshirted, is now one of only three remaining players from the Wildcats' top-ranked 1995 recruiting class.

Eugene Edgerson and Josh Pastner are the other players left with Tebbs, Bennett Davison and Mike Bibby all gone from the program.

"We're really going to miss him," Wessel said.

Tebbs said that since his grandfather has been given from a few weeks to two years to live, it would be unlikely that he will return to the team in the future.

Instead, he said, he will look into to transferring to a school closer to home where he could continue his basketball career while still being there for his family.

Both of Tebbs' parents attended Brigham Young University in Provo, and his brother Justyn played basketball at Weber State in Ogden. Justyn Tebbs was third in the nation in three-point shooting percentage (51 percent) in 1995-96.

Tebbs averaged 2.3 points per game last season in limited playing time behind Miles Simon, but was slated to step up this year as was exhibited by his 36 minutes in Tuesday's Red-Blue scrimmage.

Tebbs scored nine points in the game on 3 of 10 shooting, and will now have to be replaced by a couple of freshmen in Ruben Douglas and Traves Wilson.

"We need the freshmen to help us. There's no doubt about that," John said. "We'll be as good as they get."

Head coach Lute Olson was in Los Angeles yesterday for the Pacific 10 Conference media day and was unavailable for comment.

Seth Doria can be reached via e-mail at Seth.Doria@wildcat.arizona.edu.