OUT FOR REVENGE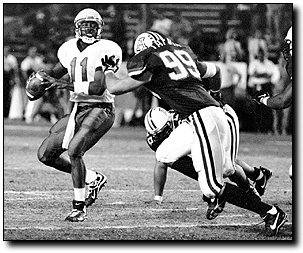 Matt Heistand
Arizona Daily Wildcat

Sophomore defensive end Joe Tafoya (99) attempts to sack Oregon quarterback Akili Smith (11) during last Saturday's game at Arizona Stadium. Tafoya goes into this Saturday's game against Washington State with 21 tackles, three sacks and two fumble recoveries.


From the beginning of the year Arizona football head coach Dick Tomey has said that last year's game against Washington State marked a turning point.

Though it was a 35-34 loss in overtime, the Wildcats showed a great deal of potential in almost derailing the Cougars' Rose Bowl-bound train.

From that point on, Arizona won nine straight games and 12 of 13, including all the games that make up this season's 8-1 overall record.

This year the situation is reversed, as the Wildcats are ranked 10th and dreaming of playing in Pasadena on New Year's Day while the Cougars (3-5 overall, 0-5 Pacific 10 Conference) are struggling to get back on track.

"Right now I'm the king of Poop Island," WSU head coach Mike Price said, comparing where is now to where he was at this time last year.

While the Cougars have been mired in a five game losing streak, the Wildcats have won three straight by the combined score of 111-17.

Still, the importance of the game is not lost on any of Arizona's players.

"You're looking to get to a big bowl this year, and you need a win to stay in second place in the conference," UA sophomore quarterback Ortege Jenkins said. "It's not like we can take another loss. We're the only team in the league with one."

At 4-1 in the Pac-10, Arizona is alone in second place after last week's 38-3 win over then No. 12 Oregon.

The Cougars have had problems with injuries and finding players to fill the gaps created after so many of last year's stars left for the NFL, led by quarterback Ryan Leaf.

All told, 13 players are gone from last year's Pac-10 champions, but that doesn't make the Cougars any less dangerous.

Still, Price isn't about to say his team is better than the Wildcats.

"We're not where we need to be to beat a team like Arizona," he said. "We have improved off the last two weeks but we need to do even more this week."

The last three games have seen Arizona's defense improve considerably, limiting its last three opponents to a combined 153 yards.

"We're going to have to come out and dominate right away," UA sophomore defensive end Joe Tafoya said. "This is a Pac-10 game, so we're going to have to put together a nice package to beat them."

Tafoya and the Wildcat defense will face a WSU offense that has been a shadow of its former self.

Replacing Leaf in the quarterback slot has been the duo of sophomore Paul Mencke (44 for 103 passing, 584 yards, 6 TD, 10 INT) and junior Steven Birnbaum (82 of 174, 1,201 yards, 6 TD, 6 INT).

When asked what was the difference in the two, UA head coach Dick Tomey said, "One's left-handed and one's right-handed."

While that much may be obvious, the difference has been noted by Price.

"That's been kind of a problem with the center to quarterback exchange," Price said. "You've got two different guys sticking different hands in there against different cheeks. It gets confusing for (the center)."

Muffed handoffs aside, the Cougars missed senior wide receiver Nian Taylor in their first three games. Now back and healthy, he has seven touchdowns and a team-high 598 yards.

The quarterbacks' other favorite target is junior transfer Leaford Hackett, who has a team-high 37 receptions for 510 yards and three touchdowns.

"They've got a couple of them (good receivers)," Tomey said. "I don't know if we can put him (Chris McAlister) on just one guy."

McAlister, Arizona's senior cornerback, shut down Oregon's top receiver, Damon Griffin, last week, and may again be called upon to shut down Taylor as well.

While UA's secondary will look to shut down WSU's wideouts, the UA defensive line will face a tough Cougar ground attack.

"Their tailback Kevin Brown has done some good things this year," Tomey said.

Brown has 633 yards on 133 carries and three touchdowns to lead the Cougars. He is backed by junior DeJuan Gilmore, who has touchdowns and 299 yards on 57 carries this year.

Tomey also noted that Mencke doubles as a rushing threat, averaging 5.7 yards per carry, which is "almost unheard of among college quarterbacks." Mencke has 131 yards on 23 carries and one touchdown this year.

On defense, the Cougars face a stiff task stopping Arizona's red-hot running back duo of senior Kelvin Eafon (430 yards, 14 TD) and junior Trung Canidate (674 yards, 4 TD).

"The big difference between this team and the ones in the past is the offense," Price said of Arizona. "Trung Canidate is healthy and Kelvin Eafon is running the heck out of the ball."

Tomey, though, said it won't be very easy to run the ball against the Cougars' front.

"Their defense has been really solid against the run," he said. "They've been that way every year. They're just so doggone hard to run the ball against."

Jenkins said last season's trouble stemmed from two players who are now in the NFL, strong safety Duane Stewart and linebacker Brandon Moore and defensive tackle Leon Bender, who was drafted but died earlier this year after suffering a seizure.

"They're an easier team to pass against," Jenkins said. "We don't throw too much, though, only 15 to 16 times a game, so we know we still have to come out and establish the running game and dominate on the ground."

WSU has given up 1,708 yards passing this year, with free safety Lamont Thompson pulling down a team-high four interceptions.

Arizona's quarterback duo of Jenkins and junior Keith Smith have combined for 2,151 yards on 146 of 243 passing and 15 touchdowns, with wide receivers Dennis Northcutt (809 yards, 6 TD) and Jeremy McDaniel (681 yards, 8 TD) their favorite targets.

With only three games remaining, all the Arizona players will be looking to move up two more spots in the Bowl Championship Series poll. If UA finishes in the top eight, it will automatically qualify for one of the four major BCS bowls (Fiesta, Rose, Orange or Sugar).

Chris Jackson can be reached via e-mail at Chris.Jackson@wildcat.arizona.edu.