Defense key as Wildcats take on Lithuanian team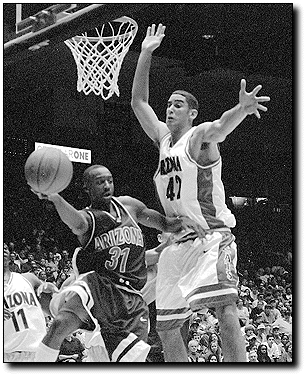 Dan Kampner
Arizona Daily Wildcat

Senior guard Jason Terry (31) looks for an outlet under the rim while senior center A.J. Bramlett (42) plays defense during Tuesday's Red-Blue scrimmage at McKale Center. The Wildcats play their first exhibition game of the season Sunday at 3 p.m. against Sakalai Lithuania.


On the heels of the weak defensive effort by the men's basketball team in Tuesday's Red-Blue scrimmage, coaches have been stressing fundamentals as the team prepares for its first game against outside competition.

The Wildcats, ranked 18th in the AP preseason poll released yesterday, will take on Sakalai Lithuania Sunday afternoon at 3 at McKale Center.

"I'll guarantee you this," assistant coach Jay John said, "those players who scored the most (in the scrimmage) won't be the starters. We need guys who can rebound and keep the other guys from scoring."

That comment may apply most to highly-touted freshman Richard Jefferson, who scored 21 points in the scrimmage but didn't grab a single rebound while letting sophomore Justin Wessel connect on six of eight shots.

"We know we have a lot of things to work on," Wessel said.

Wessel and Jefferson won't have to wait long before getting a chance at defensive redemption as Sakalai is led by 6-foot-7-inch forward Ramunas Siskauskas.

Siskauskas led Sakalai with 27 points on 10 of 17 shooting in a 81-72 loss to UTEP Monday night.

"He's their best player," said assistant coach Rodney Tention, who scouted Sakalai. "They're all offensive minded and attack-oriented."

John also said he would like to see forwards Michael Wright and Eugene Edgerson do a better job on the defensive boards, pointing out that of the 16 total rebounds between the two in the scrimmage, 12 of those were off the offensive glass when the other didn't block out properly.

"Gene and Mike are having a great battle," John said, " but we can't win and have that."

One other thing coaches will be keeping an eye on as the game progresses is how freshmen Traves Wilson and Ruben Douglas play at the shooting guard spot.

Sophomore Quynn Tebbs had looked like he might land the starting job as Jason Terry's backcourt mate, but Tebbs left school and the team yesterday to be with his family, after learning his grandfather suffers from terminal acute leukemia.

"It's going to be on the shoulders of Traves and Ruben," Wessel said. "They're going to make mistakes and they know that, but we're going to help them out."

Coaches had planned on moving Douglas to point guard to back up Terry, which would leave Wilson as the prime candidate to start.

"Traves is efficient at running the two-spot," Tention said. "Playing with J.T. has really relaxed him."

Tention said Wilson needed to get more comfortable running the offense without the ball, but that with more repetitions, he would be all right.

"Traves has been doing a pretty good job," Tention said. "He'll come along really well."

John said the freshmen have been so concerned with learning their positions, they probably won't be too affected by Tebbs' departure.

"They're so worried about themselves, they don't really have any time to worry about anyone else," he said.

Seth Doria can be reached via e-mail at Seth.Doria@wildcat.arizona.edu.