Women's hoops faces international foe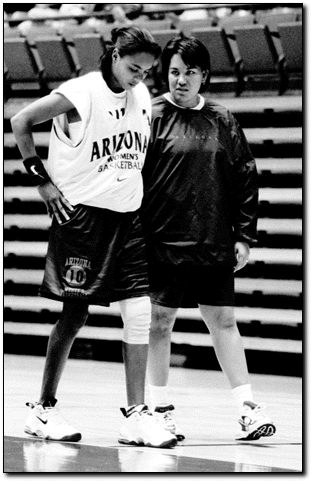 Tanith L. Balaban
Arizona Daily Wildcat

Sophomore guard Reshea Bristol (10) walks with strength coach Carla Garrett. Bristol, who suffered a slight knee sprain, will play in tonight's exhibition against Slovan Bratislava.


As far as tonight's exhibition against Slovan Bratislava is concerned, the UA women's basketball team is treating the game like the first regular season game.

Next weekend, the Wildcats open their season at the Nebraska CableVision Classic against Wisconsin-Green Bay in the opener and against the winner of the Nebraska-South Alabama game in either the consolation or championship game.

With seven new players on the roster and only three weeks of practice under its belt, the coaching staff hopes the team will continue to gel and prepare for the season.

"We're approaching it as if it's our first game," assistant coach Sam Dixon said. "We've done our homework in terms of starting and preparing the kids to play."

Slovan Bratislava is a club team from the Slovakian capital. After playing UNLV, Northern Arizona and Arizona State, this will be the team's fourth game in five days.

"They're older and more experienced," assistant coach Denise Dove said. "What I'm looking for, personally, is that the team applies the things we've been stressing and teaching to this game."

Freshman forward Elizabeth Pickney, who had 23 points while playing for both teams in Sunday's Red-Blue scrimmage, is projected to be the starting power forward.

"Liz has proven herself in practice and in scrimmages," Dixon said. "Liz is definitely going to start."

Another new player, junior transfer Angela Lackey, is asserting herself in the small forward position.

"Angie's going to be a swing player in the post," Dixon said. "We have pretty good depth and need to find ways to get players on the floor, and we did that by moving Angie to the three spot. She adds to the team with her versatility."

Sophomore guard Reshea Bristol will play tonight, backing up juniors Felecity Willis and Lisa Griffith. Bristol suffered a slight knee sprain and sat out practice on Monday and Tuesday. She also did not play in Sunday's scrimmage.

"Reshea had a good practice yesterday," Dove said. "Her knee's still a little tender when she makes certain cuts, but she's OK."

Bryan Rosenbaum can be reached via e-mail at Bryan.Rosenbaum@wildcat.arizona.edu.