Volleyball travels to L.A. for big weekend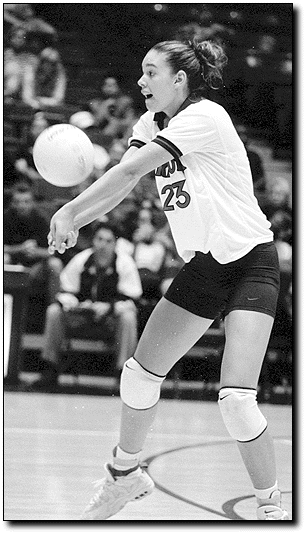 Nicholas Valenzuela
Arizona Daily Wildcat

Freshman outside hitter Lesley DuBois (23) bumps the ball during Sunday's game against Oregon State at McKale Center. The Wildcats take on Southern Cal today and UCLA Sunday.


The UA volleyball team makes its final road trip of the regular season, taking on Southern Cal tonight and UCLA Sunday in Los Angeles.

No. 11 USC (15-4, 10-2, second in the Pacific 10 Conference) defeated UCLA last weekend to extend its lead to two games over Arizona, which stands in third place at 9-4 in the Pac-10, 18-4 overall.

Head coach David Rubio was disappointed with Arizona's lackluster effort Oct. 11 against USC. The Trojans swept the Wildcats, who were coming off a five-game win two days earlier against UCLA.

"Both matches are big for us in the conference standings," Rubio said. "USC's the best team in our conference. They are very experienced and a savvy team."

The scheduling works out in Arizona's favor, since Rubio believes that his team plays better in the first game of a road trip than it does in the second game. That doesn't mean Rubio doesn't worry about UCLA, however.

"UCLA's a big, physical team," he said. "They are a team that's getting better and better."

USC head coach Lisa Love anticipates tonight's match will be very intense and close.

"We expect a tough match," Love said. "They've got some nice players, and we really respect Marisa DaLee, who's been on fire."

DaLee, last week's Pac-10 Player of the Week, ranks 12th in the nation in hitting, with a percentage at .402. She leads the Pac-10, ahead of Stanford's All-American Kerri Walsh (.390).

"You'd be particularly unwise if you don't come in with intensity for the second round of matches," Love said. "For us to be successful, we need to command the ball extremely well."

Bryan Rosenbaum can be reached via e-mail at Bryan.Rosenbaum@wildcat.arizona.edu.