Icecats face big test this weekend as they face URI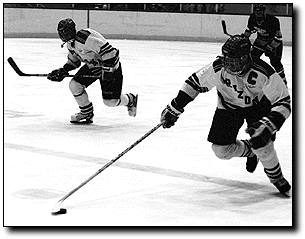 Matt Heistand
Arizona Daily Wildcat

Icecat Paul Dorn, a sophomore left wing and co-captain, skates down the ice with the puck during last Saturday's game against Colorado at the TCC. The Icecats beat the Buffaloes for the second night in a row, 7-3, behind Dorn's four goals.


The Icecats face a major test this weekend as they entertain the Rams of the University of Rhode Island at the Tucson Convention Center tonight and tomorrow night at 7:30.

Led by sophomore left wing Paul Dorn and junior goalie Mark Meister, the Icecats hope to improve on a 5-0-1 record in the second series of a 12 game homestand.

"We're very happy with our power play offense," head coach Leo Golembiewski said. "If we can focus on putting the puck in the net, we'll be fine. If we can just take care of ourselves, we'll do well."

Dorn hopes to match his play of last weekend, which saw him score six goals in two nights en route to 4-3 and 7-3 victories over Colorado. Dorn was named player of the game for both wins over the Buffaloes.

Instrumental in his success was the play of the "special teams" of hockey, which consist of the power play and shorthanded teams.

"Our power plays are smokin'," Golembiewski said. "With (Brian) Meehan and (Eugene) Mesh out there, we've been taking care of business."

Last Saturday also saw the Icecats score three shorthanded goals, a rarity in hockey. Golembiewski, however, isn't surprised.

"It's the way we play," he said. "We play 'em tight and harp on mistakes. Historically, the Icecats have averaged 25-30 shorthanded goals in a season. That's almost one a game."

The Icecats also hope to get another solid game from Meister. A virtual wall in the crease, Meister has allowed three goals per game this year, a good mark for a collegiate goaltender. After an impressive 60 minutes against Colorado last weekend, Meister will look to deal with a physical Rhode Island team in roughly the same fashion.

The Icecats also face a cruel fate once again this weekend: they have to compete directly with football.

"I've never seen anything like this," Golembiewski said. "The past three home weekends, we've had to compete against major university events. We don't make much money in the deal, but we have great fans."

Although the success of the football team has caused the average attendance of Icecats to fall by about half, Golembiewski remains hopeful.

"As soon as the (football) season winds out and people start seeing more hockey, crowds will definitely improve."

Ryan Finley can be reached via e-mail at Ryan.Finley@wildcat.arizona.edu.