Liquor violations put restaurant's future in question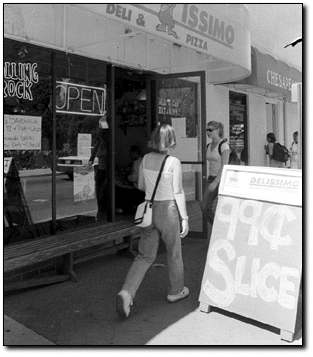 Katherine K. Gardiner
Arizona Daily Wildcat

An unidentified person walks by Delissimo's Daiquiri Ranch on North Park Avenue. The restaurant has had 11 underage drinking arrests in the past seven weeks. The owner said police are unfairly targeting the business.


State officials may take away a campus-area restaurant's privilege to sell alcohol after four recent incidents in which police arrested 11 teen-agers and levied a battery of charges against one of its owners.

But the restaurant's owners are accusing Tucson and University of Arizona police of singling them out and say they plan to fight any attempts to revoke their liquor license.

Hanri Bouzari, co-owner of Delissimo's Daiquiri Ranch, 749 N. Park Ave., has been arrested twice on suspicion of numerous liquor law violations - once by Tucson police on Oct. 17 and then by university police early Saturday. Five students were arrested on suspicion of minor in possession of alcohol in those incidents, and a total of six other students were arrested on the same charges Sept. 29 and Oct. 1, police reports stated.

Reports of the four incidents have been forwarded to the Arizona Department of Liquor Licenses and Controls, as required by state law. The department may now take action to revoke Delissimo's license, issued in May, said Duane Smith, the department's southern Arizona license manager.

"They're going to get slapped good and hard this time," Smith said. "It shows somebody's not paying attention to business like they should be."

Smith said the number of complaints against Delissimo's within the past two months is highly unusual. Three serious violations within a year can put an establishment at risk of losing its license, and sales to underage and intoxicated persons are the department's two top enforcement priorities, said Myron Musfeldt, chief of investigations for the liquor department.

"Those are the quickest ways to lose your license," Musfeldt said.

But Bouzari, 38, said yesterday that most of the allegations against him and his establishment are unfounded and that he is being harassed by police, who he said now regularly visit his restaurant and scare away customers.

"I have to defend myself," Bouzari said. "I can't lose my liquor license."
Conflicting accounts
In the latest incident, a university police officer stopped three people who smelled of alcohol near North Park Avenue and East Fourth Street at 12:35 a.m. Saturday. All three told police they had been drinking at Delissimo's and were later cited on suspicion of underage drinking, reports stated.
The officer then arrested Bouzari on suspicion of serving alcohol to a minor and later released him.
Bouzari said it was ridiculous for police to assume the students were drinking at his restaurant solely because they said so. Police found no one underage drinking inside the bar that night, according to police reports.
Bouzari's attorney, David Nesci, said yesterday he expects the charge to be dismissed because there is insufficient evidence that the three students arrested had actually been drinking at the bar.
"They were not in there," Nesci said. "The doorman will testify they were not in there."
In the Oct. 17 incident, Tucson police cited two 18-year-old men for drinking on the sidewalk outside Delissimo's at 1:04 a.m., according to Tucson police reports.
Police again arrested Bouzari, on suspicion of two counts of serving alcohol to minors, two counts of failing to check underage ID and two counts of allowing alcohol to be removed from the premises. While police were citing Bouzari, they saw a restaurant patron drinking and added one count of allowing consumption after 1:15 a.m.
But Bouzari, who was cited and released, said yesterday that the men stole an abandoned pitcher of beer from a table near the front door and took it outside.
Police reports noted that 10 other people under 21 were in the restaurant at the time and were not consuming alcohol.
"We did not serve those kids. They saw the beer and tried to grab it," Bouzari said. "We tried to press charges for shoplifting, but they didn't let us."
Nesci said he expects those charges to be dropped.
University police also arrested four students Sept. 29 on suspicion of underage drinking after an officer drove by at 11:54 p.m. and heard someone inside say, "There's the cops," according to police reports.
Tucson police inspected the bar Oct. 1 at 10:15 p.m. and cited two 18-year-olds on suspicion of underage drinking. One of the men's ID had been checked, but it was later found to be a fake California license, police reports stated.
Bouzari said the frequency of arrests and liquor board actions related to Delissimo's are a result of the extraordinary attention police have given to his establishment.
"If you would get a ticket for every infraction you make, your license would be revoked, but they say only one in 50 infractions is caught," he said. "If you have a police officer watching this place 24 hours a day, seven days a week - it seems like every time something does go wrong, they're here."
Owner trying to improve
Bouzari admitted responsibility for the incident Sept. 29, saying he is inexperienced at running a bar and didn't have a log book to record patrons with sketchy identification. Bouzari's wife and the co-owner of Delissimo's, Maria Piacquadio, who holds the restaurant's liquor license, has already agreed to pay a $250 fine in connection with that first incident, according to state records.
But Bouzari said the criminal charges against him and the resulting heat from the liquor department is unwarranted because he is doing everything he can to keep minors from drinking at his bar.
Bouzari said many people use fake IDs or find surreptitious ways to obtain alcohol in his establishment. Because Delissimo's is classified as a restaurant, the law does not prevent minors from entering.
Nevertheless, Bouzari said a doorman checks identification at the door after 9 p.m. on busy weekend nights when the kitchen is closed and that he is very strict about checking ID of everyone who looks close to 21.
"I've never served anyone who didn't have ID," Bouzari said.
But a 19-year-old Arizona Daily Wildcat reporter was never asked for ID when he ordered a mug of Foster's beer about 10:30 p.m. Tuesday. Bouzari was tending bar that evening and served the reporter without asking him his age or requesting ID.
Bouzari said yesterday that he did not recall the incident.
"I don't know why I didn't check his ID," he said. "On Tuesday night? I don't know why I didn't. If you say I didn't, then I didn't."
He reiterated that he is still careful.
"We knowingly never serve alcohol to minors," he said. "We check every ID nowadays."
Fewer problems at other bars
A sampling of other nearby bars' and restaurants' liquor department records showed fewer incidents than Delissimo's.
Frog & Firkin, 874 E. University Blvd., has had a clean record since it obtained its current license in 1994.
O'Malley's on Fourth, 247 N. Fourth Ave., has had nothing on its record since its license was issued in 1993.
The Buffet Bar, 538 E. Ninth St., paid a $500 fine for an underage violation in 1993 but has had nothing else on its record in the last 13 years.
Joseph Altman Jr. can be reached via e-mail at Joseph.Altman.Jr@wildcat.arizona.edu.