ASUA keeps city parking battle alive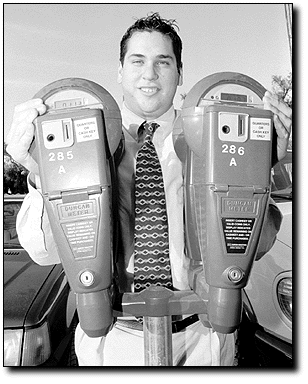 Aaron Wickenden
Arizona Daily Wildcat

Associated Students Executive Vice President Cisco Aguilar is part of the team to campaign against the city's plan to sell parking permits for UA streets. The City of Tucson and the University of Arizona reached a compromise last week that halted the progress for permit sales.


ASUA will continue its campaign against the city of Tucson's plan to sell permits on campus streets despite a recent compromise, student officials said yesterday.

"We won't stop until we know the deal has gone through," said Cisco Aguilar, Associated Students executive vice president. "I think we would lose credibility if we just watched the city come in and take over."

ASUA will continue a petition drive to collect 3,000 signatures opposing the parking plan and present it to the Tucson City Council, Aguilar said.

The signatures are being collected in fraternity and sorority houses, residence halls, ROTC and campus clubs such as Movimiento Estudiantil Chicanos de Aztlan. The petition will also be on the UA Mall Dec. 2 as part of "Meet Your Representative Day."

ASUA members were unsatisfied when the city and the University of Arizona reached a late-night compromise Thursday that halted the plan to sell permits on central campus streets.

As far as negotiations go, the UA is getting the better end of the deal because it maintains control of core campus streets, ASUA President Tara Taylor said.

"They (Tucson) really wanted control of core campus streets," she said.

As of last night, the deal allows the UA to keep control of all streets between East Speedway Boulevard, East Sixth Street, North Campbell Avenue and North Euclid Avenue.

"There is a deal in the works, but it is not finalized," said Chris Leighton, Tucson parking program coordinator. "It will be a complicated deal by the time it's all done."

The city will move ahead with its plans to charge for parking on the streets north of Speedway starting Feb. 1. Those permits will sell for $300 to $400 without the option of parking for football and basketball games.

North of campus, East Helen Street from North Park Avenue to Campbell, and East Mabel Street from North Highland Avenue to Campbell will become permit areas, as will parking spaces lining the west side of University Medical Center. Small north-south streets between Helen and Mabel will also be hit.

The compromise involves a land swap agreement, in which the UA will turn over an undisclosed parcel of land for city use, Leighton said.

The UA has also agreed to pay about $85,000 for city fire fighting services - something it has never done before. Under the former parking plan, city permits would have generated about $85,000.

"The (Tucson parking) commission still feels the university needs to manage parking on core campus streets," Leighton said, adding that he does not know specifically how the city will ask the UA to improve congestion on core university streets.

Before the compromise, ASUA drafted a letter to the city council and Mayor George Miller requesting a public hearing on the matter. It also passed a resolution last week condemning city plans.

"The city needs to realize that we are people too," Taylor said. "We want to be fully aware of all decisions that are made and we want to be asked what we think about it before these decisions are made."

Aguilar said he was proud of the university's response to the proposed parking plan.

"We came together as a community to fight the battle," he said. "I hope this sends a message to UA parking to work with students because parking is a major issue to students."

Michael Lafleur can be reached via e-mail at Michael.Lafleur@wildcat.arizona.edu.