Survivor tells of WWII prison camps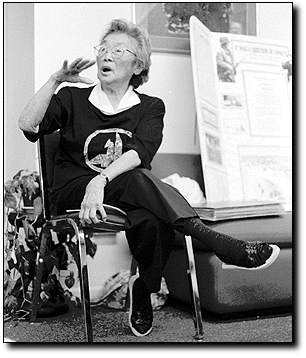 Jennifer Holmes
Arizona Daily Wildcat

Tucson resident Margaret Satow speaks about her time spent at an internment camp for Japanese-Americans during World War II. After the December 7, 1941, bombing of Pearl Harbor, Japanese-Americans were forced into camps for the duration of the war.


When Margaret Satow heard a 1941 radio report that the Japanese military had bombed Hawaii's Pearl Harbor, she was a 21-year-old woman who didn't know her life was about to change dramatically.

Several months later, Satow and her family were ordered from their California home, allowed to take only what they could carry in two hands and remanded to a Japanese internment camp at the order of President Franklin Roosevelt.

But Satow, 80, a diminutive woman whose voice quivers slightly when she speaks, didn't tell 25 wide-eyed University of Arizona students yesterday much about the horrors of being ripped from her home in oceanside Monterey, Calif.

She spent only a few minutes talking about the three-day train ride that ended at a barren strip of land in Amache, Colo., where the United States constructed one of 10 internment camps for Japanese Americans.

"I have never seen such land that looked like the cows wouldn't even graze on it," Satow told the group at a forum co-sponsored by the Political Science Honorary and the Asian-Pacific Student Association. "It was truly a forlorn area."

Instead, Satow, now a Tucson resident, told the audience how she and other Japanese people were misunderstood, and how their allegiance to the U.S. was disregarded.

"We had no way to prove our loyalty," she said. "We were born here, we were raised here and we lived as American a life as possible. Japan was just another foreign country to us."

To prove their devotion, Satow said 750 camp prisoners volunteered and served during the war.

But the government didn't listen, and it kept prisoners in small camp apartments with dirt floors with some bricks on top and a single lamp to light the room.

"Life managed to go on even under the conditions we were living in," she said. "Believe you me, it was rough camping."

The camp residents prospered, however, by finding a way to grow potatoes out of the dry Amache land. Satow called it "one of the few success stories we had."

They brought in grade school teachers and founded a state-accredited school system.

Officials allowed them to have Boy and Girl Scout programs, as well as religious services.

And sometimes, when the barbed wire and armed guards that surrounded the camp weren't so disturbing, the prisoners had special, romantic moments - Satow and her late husband Norman were married.

"I feel sorry for the people who are still bitter," Satow said. "Our attitude is: Learn from it, go on with life and enjoy it to the fullest. This is how life goes - some get the breaks and some don't."

Within the last couple decades, the United States has been trying to make amends for holding Japanese people in the camps.

Former President George Bush apologized during his tenure with a two-paragraph letter.

"We can never fully right the wrongs of the past," Bush wrote. "But we can take a clear stand for justice and recognize that serious injustices were done to Japanese Americans during World War II."

Despite Satow's admission that the United States disregarded the Japanese prisoners' civil rights, she maintains her positive stance on the issue.

"I really don't have any hard feelings," she said. "In life ... you never know."

David J. Cieslak can be reached via e-mail at David.J.Cieslak@wildcat.arizona.edu.