Women's tennis team face stiff competition at home invitational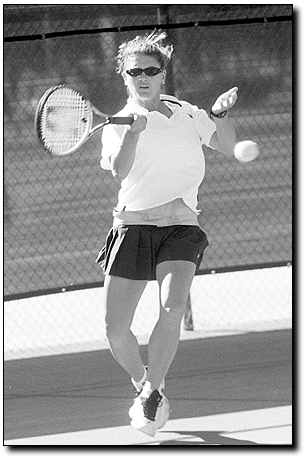 Nicholas Valenzuela
Arizona Daily Wildcat

Senior Monique Allegre returns the ball during her match Saturday against a San Diego player at Robson Tennis Center. The UA tennis team played against Kansas State Friday, San Diego Saturday and finished the weekend yesterday playing Ole Miss.


The UA woman's tennis team found hard competition at the UA Invitational this weekend. The three day tournament hosted Kansas State, San Diego and Mississippi.

The Wildcats lost to Ole Miss yesterday, 7-0.

"Overall the weekend went well," UA head coach Stephanie London said. "Ole Miss is a tough team that makes us fight to win points."

Arizona was only close in a doubles match.

The doubles team of senior Monique Allegre and freshman Lindsay Blau came down from 7-2 to the Rebels' Mariana Eberle and Celeste Frey, winning five straight games to pull to a 7-7 tie. But the Rebels' duo recovered in time to win the final game.

Saturday the Wildcats overcame San Diego 4-3. Two wins came from doubles teams of Allegre and Blau, 8-7, and sophomore Joanna Buczowska and freshman Laresa Marino 8-3. "It was a great and positive building experience beating USD. We came together as a team," Blau said.

Marino said the weekend as a whole will help Arizona down the road.

"Overall we did pretty good," Marino said. "We are all looking forward to doing well at UCLA and USC."

Katie Fonken can be reached at Katie.Fonken@wildcat.arizona.edu.