UA rugby fields 2 teams in 1-1 weekend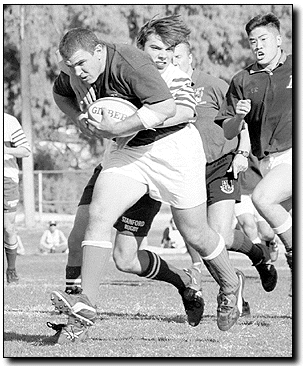 Wildcat File Photo
Arizona Daily Wildcat

Freshman Joe Schmitt (13) gets tackled from behind in the game against Stanford Saturday at Estevan Park UA beat the Stanford Cardinals 32-10.


The Arizona rugby team used two different 15-man squads for their games this weekend, and came away losing to BYU 39-3 and defeating Stanford 32-10.

The Wildcats are fielding two varsity squads this year instead of an "A" team and a "B" team.

Fullback Chris Kron scored two trys in the win over Stanford, while eight-man Dan Duncan and lock player Matt Gerrow added a try each. Stanford has been to the playoff semi-finals the last two years, but was no match for Arizona Saturday. The Wildcats were able to beat Stanford both on the scoreboard and physically.

"We played a physical and tough game," team member Paul Enegren said. "We just have to keep this intensity and focus and carry it into this weekend."

The loss to BYU Friday helped the team find out a lot about its players, and gave the team some needed experience. With league play starting next weekend, the Wildcats wanted to give everyone playing time to see exactly where they stood. Senior fullback Grem Lim scored Arizona's only points with a field goal in the first half.

Assistant coach Phil Moody cited bad tackling and a lack of attitude as reasons for the loss.

"At the beginning of each half we played with attitude," Moody said. "We just need to do that for the entire game."

The Wildcats play at Cal-Poly San Luis Obispo this Friday, and at UC-Santa Barbara on Sunday. Both matches are conference games.