ASUA bookstore's new textbook refund policy 'unfair,' some say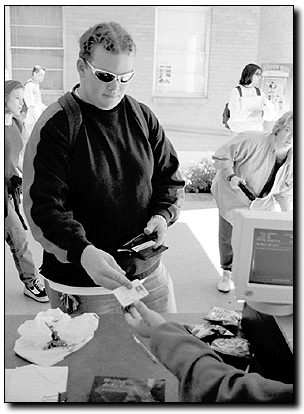 Randy Metcalf
Arizona Daily Wildcat

Undecided freshmen Scott Post returns his "Writing as a Revision" book to the UA bookstore yesterday. As of Monday the bookstore no longer refunds money for books. The bookstore is only issuing store credit through February 12.


Students expecting cold cash when they return unused textbooks to the ASUA Bookstore this semester will have to settle for store credit.

The policy, effective Jan. 25, was initiated in order to stay competitive with other book retailers, said Cindy Hawk, assistant director of the University of Arizona Associated Students Bookstore.

"We need to tighten our refund policy," she said. "We are a business and we need to operate as a business."

Some students buy the same textbooks from both on-line companies and the ASUA Bookstore, she said. Because the on-line books are sometimes cheaper, students return the bookstore texts once they have both copies.

"We don't want students using the bookstore as a library to tide them over," Hawk said. "Competition is a good thing, but we need to operate as a business and make sure we're not losing money."

At Rother's Bookstore, 501 N. Park Ave., customers will find the same refund policy as the university bookstore. The Arizona Bookstore, 815 N. Park Ave., however, grants a full refund until Feb. 9.

"We're just trying to please our customers," said Arizona Bookstore manager Gale Elliott.

The ASUA Bookstore's policy is posted around the store and on receipts in an effort to make the change obvious to consumers, Hawk added.

"We thought we'd be safer if we put it on the front of the receipt," Hawk said. "It was nothing we were trying to spring on people."

Cashiers have been instructed to alert customers about the new refund policy, she said.

But a random sampling of 20 bookstore customers found that only nine had been told of the new policy, leaving some students surprised.

"We're trying to find a happy medium," Hawk said.

The new policy has faced opposition from some students.

"It's unfair because the drop date is in February," said Scott Post, an undeclared freshman.

Other students complained that the credit is only good for six months after the date it was issued, prohibiting them from using it next Fall semester on textbooks.

Hawk estimated that 75 percent of students who will return books have already done so.