Reversal of Fortune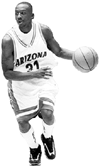 Jason Terry

Height        6-2   
Weight        172
Games          16    
Points       20.7 
Assists        89    
Turnovers      68   
Rebounds      3.1  
Steals         43   
Shooting %   .462  
3-point %    .378 
Free Throw % .854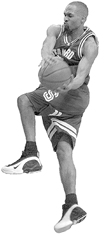 Arthur Lee

Height        6-1
Weight        185
Games          19
Points       11.9
Assists        97
Turnovers      35
Rebounds      2.1
Steals         39
Shooting %   .459 
3-point %    .475
Free Throw % .825

Sometimes college sports offer some pretty ironic situations.

Last season at this time, the UA men's basketball team was 7-0 in the Pacific 10 Conference heading into what was considered their toughest test of the year - a road game against No. 4-ranked Stanford at Maples Pavilion.

The Wildcats rose to the challenge, playing perhaps their best road game of the year, beating the Cardinal 93-75.

Exactly one day shy of a year later, this year's Cardinal team, 7-0 in conference play and ranked No. 3 in the country, comes to McKale Center tonight in what will probably be their toughest fight in the quest for the first 18-0 Pac-10 record.

"I think their best chance of losing is here at McKale," junior forward Eugene Edgerson said, though adding that the Wildcats will have to play their most complete game of the year to stand a chance.

"We haven't put together a full game yet," he said. "You can't play like a cream puff or you'll get stomped."

Edgerson said that while seniors Jason Terry and A.J. Bramlett have been doing their jobs offensively, the UA bench would have to step up dramatically to compete with a team that has eight players averaging more than six points per game.

"Our bench is like terrible," Edgerson said. "In order for us to beat Stanford you need eight or nine guys with eight points or above.

"After the Oregon State game Richard Jefferson said to me 'Is Stanford really good?' That baffled me. How could you ask if Stanford is a really good team? They're ranked number three, they're two deep at every position and they're blowing people out every game."

Edgerson has a point in that Stanford is averaging over 19 points per game more than their opponents, including a 94-45 drubbing of Washington State and a 72-59 win against UCLA in Los Angeles.

While Stanford's list of leading scorers is hardly impressive with only three players averaging more than 10 points per game, they have used the same starting lineup in all 19 games this season, developing a fluidity in their offense no other conference team can match.

Compare that to the fact that when Rick Anderson replaced Ruben Douglas as the starting shooting guard against Oregon State, Arizona was using its 10th starting lineup in 16 games.
Stanford

SF  5 Peter Sauer  8.7 ppg 4.3 rpg
PF 45 Mark Madsen 13.2 ppg 7.6 rpg
C  55 Tim Young    9.4 ppg 6.4 rpg
SG  3 Kris Weems  10.2 ppg 2.9 rpg
PG 11 Arthur Lee  11.9 ppg 5.1 apg

If UA is to pull off the upset, one battle the Wildcats have to win is Michael Wright against Mark Madsen, head coach Lute Olson said.

"It will be a challenge for Michael," Olson said. "But I think Michael is the kind of guy who responds to challenges."

Cardinal head coach Mike Montgomery called Wright "the best freshman in the league," and said he knew a long time ago he would have problems facing the freshman.

"Someone commented to me this summer 'Mike, this Wright kid is going to give you trouble.' He's been in double-figures in rebounds the last few games. He's very big and strong and gets to the glass," Montgomery said.

Madsen, on the other hand, has been described as a fierce competitor who plays beyond his actual athletic talent, garnering the nickname "Mad Dog."

"You have to make him counter you, not you counter him," Edgerson said. "You can't let him get position on you. He uses what limited talents he has to the best of his ability."
No. 13 Arizona vs. No. 3 Stanford
(13-3 overall, 5-2 Pac-10) (17-2, 7-0)
Where: McKale Center When: 8:37 p.m. TV/Radio: Televised on Fox Sports Net; Broadcast on KNST (790 AM) What: Stanford is the best defensive team in the league, holding opponents to 55.1 points per game on 36 percent shooting. . .UA is the best rebounding team in the league, outrebounding opponents by an average of 10 boards per game. . .Terry needs one more steal to become the program's all-time leader in that catagory. . .Stanford has the best assist-to-turnover ratio (1.3) in the Pac-10 while Arizona (.79) is second to last.

Olson said the other key matchup of the game, perhaps even more important than the Wright-Madsen battle, will be between Terry and Stanford point guard Arthur Lee, both finalists for the John R. Wooden Award.

Olson said that while Terry has outscored Lee, "Lee has done a much better job of taking care of the ball."

Olson also pointed out that Lee's assist-to-turnover ratio, which is about three to one, is much better than Terry's, which is about one to one.

"It helps that Lee is passing to veterans," Olson added.

As has been the case with Olson throughout the year, he stressed that other than offense, Terry needed to step up his defensive game.

"That would be helpful," Olson said. "Lee has the kind of experience where if Jason makes a mistake, Lee will make him pay."

While battles rage between Terry and Lee, Wright and Madsen, and Bramlett and Stanford 7-foot center Tim Young, sophomore forward Justin Wessel said the x-factor will be the performances of the UA wing players, namely Richard Jefferson, who scored 20 points against Oregon State, and Wessel himself.

"We might not have the outside shooting, but we have the quickness advantage," Wessel said. "If our wings can get to the basket and Richard can get to the rim, we'll be all right."