The Media's Morbid Obsessions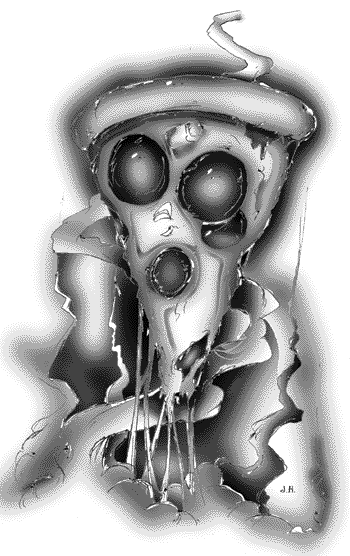 Wildcat File Photo
Arizona Daily Wildcat


for nearly two weeks now the Tucson media have been obsessed by a story so sordid and violent, there is seemingly no end in new hooks and angles.

If you haven't caught the 10 p.m. news, the 5 p.m. news, the 6 a.m. news or any between-news-shows news updates since Jan. 17., you may not be aware of the "tragedy that has shocked Tucson."

That tragedy, of course, was the slaying of three eastside Pizza Hut employees in what was, depending on who you ask, the sad denouement of a love triangle or a robbery attempt gone awry.

Journalistically, not a stone has gone unturned.

Television and newspaper reporters have pored over every aspect of the crime that ended in the death of Pizza Hut employees Robert Curry, 44, Melissa L. Moniz, 20, and James Bloxham, 17, - from who paid for the victims' funerals to the plight of the late night workers. At the same time, these media outlets have also scrutinized the lives of two teens, Christopher Bo Huerstel, 17, and Kajornsak Prasertphong, 19, indicted Wednesday on three first degree murder charges and three armed robbery charges. Their friends and parents have been interviewed as the city grapples with its loss and shock.

Our media outlets have also addressed the larger problem of ensuring night employee safety. One city council member, Democrat Shirley Scott, told the Channel 9 news she would support an ordinance to require security cameras in all Tucson's businesses, while a former employee of another Tucson Pizza Hut told the Arizona Daily Star that she had asked the company to address safety concerns following a shooting eight years ago.

Tucson television station and newspapers have outdone themselves in portraying the emotions that a horror like this brings out in a community. No tear has gone undocumented, no funeral unphotographed.

Still, from the candle and balloon shrine that the Pizza Hut, 7920 E. Broadway Road, now is, to the declarations of the need for more cameras and more attention to violent threats made by teenagers, there has been nothing reported that truly transcends a kind of coverage which borders on parody.

Indeed, important as it is for local media outlets to reflect the views of and serve their community, the coverage of the Pizza Hut slayings has begged questions about what the most compelling goals of local newspapers and television stations should be. To be sure, there is mourning to be done, but when does the media's attempt to cover an important, albeit tragic, event actually cross the line and begin to work at cross purposes with the ultimate goals of a community? That is to ask, when does the coverage of the sensational reach the point that it is oversensationalized?

The various media professions have struggled with this question like Sisyphus, and yet, from national scandal coverage to international car accidents to local tragedies, we are always left with the same sad photos, the same overwrought prose and precious little analysis or assessment. For every issue of Columbia Journalism Review that asks "What went wrong?" with the coverage of a given high profile story, there are a thousand Pizza Hut-style tragedies local television stations and newspapers overplay and underexamine.

Inasmuch as all politics are local, and any real attempt to address the social tensions that lead to the kind of violence seen in the Pizza Hut situation must first be addressed locally. If we, as members of a society, want to promote policy debate and change at any level of the government process, we need an informed populace. Unfortunately, the kind of reporting that promotes an informed populace goes beyond warning parents about red flags in Paducah, Ky., or putting security cameras on every doorway. How, for example, would security cameras have affected the outcome of events at the Pizza Hut that morbid night?

The public policy debate picked up by television stations and newspapers in this town fundamentally flies in the face of reason.

It is time for network television affiliates, with their flagging viewerships, and local newspapers, with their struggling circulations, to realize that a continual Diana-ization of tragedy is not in any way a fulfillment of their role in a free society and does not attract new viewers and readers.

There comes a time when we ought to throw the demographic bibles aside, roll up our sleeves and actually do the job we've always said we would.