No. 5 Arizona faces Warhawks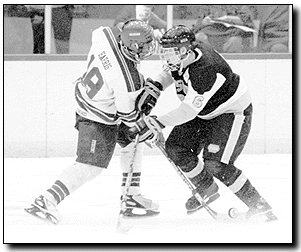 Wildcat File Photo
Arizona Daily Wildcat

Sophomore center Marc Harris (18) gets wrapped up with a Towson State player as he skates down the ice at TCC on January 15. The Icecats will face off with Wisconsin-Whitewater this weekend at Wisconsin.


The No. 5 Arizona Icecats (13-3-1) take to the road again this weekend for games with both, Wisconsin-Whitewater and Marquette. The Icecats are battling for a good seed in the American Collegiate Hockey Association's national tournament Mar. 3-6 in Delaware.

Icecats head coach Leo Golembiewski will go with an unorthodox goaltending rotation for the weekend, starting junior Mark Meister tonight against Wisconsin-Whitewater, freshman Jason Morgan tomorrow against the Warhawks and junior Mike Tesi for the game against Marquette Sunday.

"There's nothing weird with us starting Tesi on Sunday," Golembiewski said. "Mike's a great goalie, he was our regular guy last year."

Tesi, a Tucson native and last year's regular starter, will get a rare starting spot.

"It's a long road trip (nine days) and we're suiting up 21 guys," Golembiewski said. "A lot of guys will see time on the ice."

The Icecats nine-day sojourn to the East Coast is bound to take a lot out of both Golembiewski and the players.

"All these schools are going to test us, and the kids are missing a lot of school," Golembiewski said. "We better come out on top and they better bring their books with them."

The Icecats are coming off what Golembiewski called an "emotional, good weekend for us" in which they swept Arizona State in Phoenix, breaking out of a 1-3 slump which had plagued them at the start of the second half of the season.

"We really came together last weekend and had an inspiring practice Wednesday," he said. "We seem good to go."

With the exception of a few nagging injuries, junior center Hunter Cherenack and freshman left-wing Kevin Meehan listed as questionable, the Icecats appear ready for the whirlwind road trip back east, which will see them take on Delaware Feb. 3 and West Chester Feb. 5.

"It's gonna' be a long, long trip," Golembiewski said. "We need to keep the pressure on."