UA softball team hungry for sixth national title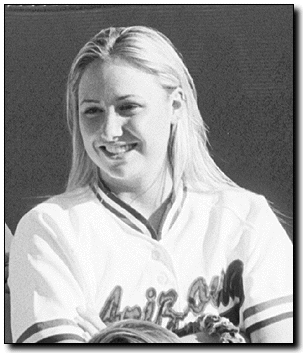 Wildcat File Photo
Arizona Daily Wildcat

First up for the UA softball team is the Arizona Softball Classic, featuring Illinois-Chicago, New Mexico State and Washington. The doubleheaders start at 2 p.m. Friday through Sunday at Hillenbrand Stadium


The Wildcats' buzzer-beater win over the Cardinal was not the only thing celebrated last Thursday night at McKale Center. The UA softball team was at center stage and center court at halftime when the players were honored for winning the Pacific 10 Conference Championship last year, a great memory and aspiration for players to have in mind as they open their '99 season this week.

"Now it's time to prove where we belong this year," UA softball head coach Mike Candrea said. "We're here to set our own road and tradition."

The Wildcats enter this season as two-time defending Pac-10 champions, setting a league record last year with a 27-1 record, and finishing 67-4 overall.

UA doesn't begin this season on top, but almost there, ranked No. 2 in the USA Today/NFCA Top 25, right behind defending NCAA champion Fresno State (52-11 overall), who beat the Wildcats 1-0 last year in the championship game.

"I like being chased," Candrea said referring to the poll. "To tell you the truth, I don't really care about the rankings, especially preseason's because they're based on what you've done in the past."

Although winning has been a part of Wildcat softball for many years, the team will be looking for talent from newer and fresher faces this season, as Arizona bid farewell to five seniors last year in Leah Braatz, Nancy Evans, Tiana Hejduk, Alison McCutcheon and Leticia Pineda, who totaled 56 home runs, 261 scores, 266 runs, 75 stolen bases and pitched 36 victories.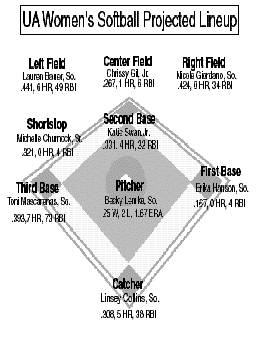 "Losing five seniors is a loss, obviously," Candrea said. "We lost consistent power."
Candrea even joked with Lute Olson the other day in the locker room, saying, "We'll have some similar stories to share by the end of the year."
Like the men's basketball team, the softball team also has some players to step up and fill the big shoes the retired Wildcat legends left behind. The team roster has one senior, five juniors, nine sophomores and one freshman.
Two sophomores, third baseman Toni Mascarenas and outfielder Lauren Bauer, return to the lineup, bringing with them their first-team All-American honors. Joining them are All-Pac-10 selections sophomore outfielder Nicole Giordano and junior second baseman Katie Swan. In the number one pitching slot, All-NCAA Region 1 selection Becky Lemke will carry over her success from last year. The sophomore had 25 wins, 161 strikeouts and a 17-1 record against ranked teams. Also finding a possible home on the mound will be sophomores Teresa Ayoub and Maghann Pricer and freshman Jennie Finch.
"It'll take some games to see who will gain confidence and who will lead by experience," Candrea said. "But even though we're young, we have the talent. We need to mature as a team."
Candrea also said that the younger players will have to step up and carry a smooth "changing of the guard" because he said, "The Pac-10 is (as) strong as it's ever been."
UCLA finished last year with an 18-27 overall record due to NCAA sanctions, but this year the Bruins are right on the Wildcats' tail with a No. 3 ranking. Right behind them at No. 4 is Washington, which finished 52-15 overall.
"Washington is very solid," Candrea said. "I have a lot of respect for their hard work."
Candrea also said No. 18 Arizona State (38-27) looks better this year and he can always count on Cal to be right up there.
"There's going to be no break in Pac-10 play," he said.
But before Pac-10 play begins, the Wildcats will have a little break to test their skills against other clubs, starting this weekend at Hillenbrand Stadium in the Arizona Softball Classic.
Starting Friday and continuing through Sunday afternoon, Arizona will take on Illinois-Chicago, New Mexico State and Washington, in a showdown that won't count toward conference play, with all three doubleheaders beginning at 2 p.m.