Yeah, that's the ticket...
By Michael Lafleur
Arizona Daily Wildcat
September 3, 1998


Send comments to:
city@wildcat.arizona.edu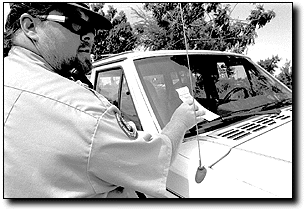 Wildcat File Photo
Arizona Daily Wildcat

Kristy Mangos/Arizona Daily Wildcat UA Parking Enforcement Officer Mike Wallace issues a parking violation Tuesday to a vehicle in a Zone 1 parking lot at the corner of North Cherry Avenue and East Speedway Boulevard. Since 1992, the UA has issued an average of 41,660 parking tickets each year.


Although City of Tucson parking spaces outnumber the UA's by about 20,000, the university has been issuing more tickets - about 5,000 more per year.

According to a 6-year parking violation study published by the Tucson City Court, the University of Arizona doles out an average of 41,660 parking tickets each year.

By comparison, the City of Tucson issued an average of 36,889 tickets for parking violations.

The statistics for both ticketing entities come from fiscal years 1992-97. Each fiscal year runs from June 1 to July 30.

"We're not picking on people," said Marlis Davis, UA's director of parking and transportation services. "We're not as punitive as the city - we look at our tickets as an educational thing."

Davis said that neglect of parking enforcement on the city's part may be responsible for the discrepancy between citations given out by Tucson and the UA.

"The city never paid attention to parking operations before last year, to be honest," Davis said. "We've always had to pay attention because otherwise it would be chaos."

Chris Leighton, the parking program coordinator for Tucson, said the city monitors about 30,000 parking spots, including 45 miles of residential neighborhoods and 13,000 spots in the downtown area.

The UA, on the other hand, oversees 11,747 parking spaces.

The City of Tucson should be giving out far more tickets than the UA, Leighton said.

He attributed the city's poor citation and collection rate to an inability on the part of Tucson City Court to follow through with punishments for those who do not pay.

"You can't hold a high-school dropout's grades to make him pay," Leighton said.

As of now, the city only collects on about half of the tickets written.

"We have the potential to be making $1.1 million per year," he said.

The UA has its own enforcement problems, also collecting on about 50 percent of citations issued. Davis said that is due to the fact that the university cannot force visitors and those not associated with the campus community to pay.

She said another possible reason for the ticketing gap is that the UA's parking administration is responsible for many functions that Tucson parking can transfer to other city offices.

"In fact we may be comparing apples to oranges," Davis said. "But maybe five years down the line they'll have the services that we already have."

Most of downtown Tucson's garages are actually under the ownership of Arizona Auto Parks.

Auto parks President Geoff Shepard said he runs 20 garages and lots, with the price tag for monthly parking running from $10 to $75 per month.

It is unusual to receive a parking ticket inside such garages and lots because motorists must pay to get in or out.

This year the City of Tucson is trying to consolidate its parking services into one entity that will be responsible for running parking garages, giving citations, establishing a downtown shuttle and selling parking permits.

The new department will be called Transportation Enterprise Area Management. Davis serves on its oversight committee along with 14 others.

Leighton, who will manage the department, said that during its first year the program will try to address and correct many problems with Tucson parking that have been building up over the years.

One of the problems to be addressed is the approximately 300 free parking spaces given out each year to upper echelon Tucson city administrators.

Leighton said the problem is currently under investigation.

While the new department will not use UA Parking and Transportation as a model because of the different needs of the two systems, Leighton said he will look to the UA for advice on how to run as a self-sustaining parking service.

Tucson sells annual residential parking permits for $2.50, which just covers paperwork costs. The revenue from their sale last year was $7,468, Leighton said.

At the UA, permit sales are the primary source of income. The price for one ranges from $160 to more than $1,000.

"We have limited spaces and our revenue has to equal our expenses," Davis said in defense of on-campus permit prices. "You cannot compare residential parking to UA parking."

The UA employs 80 full-time staffers and 19 students, while the city's parking program employs 16 people. Both entities have a similar number of traffic officers - eight for Tucson and nine at the UA.

UA parking needs more staff because it is much larger and more complicated than the city-run program, Davis said.

"We are in total control of everything to do with parking here," Davis said.

She cited the three-tiered appeals process at the UA- an appeals officer, a hearing officer and a parking hearing board - as an example of something the city does not have to deal with.

All parking citation appeals in Tucson are referred to City Court.

"We do all our own repairs and take care of all our own equipment," Davis said. "We are all computerized, we take in all our own revenue, collect our own meters, count our own cash and deposit it."

Michael LaFleur can be reached via e-mail at Michael.LaFleur@wildcat.arizona.edu.