Budget staff plans ahead through 2001
By Stuart Williams
Arizona Daily Wildcat
September 3, 1998


Send comments to:
city@wildcat.arizona.edu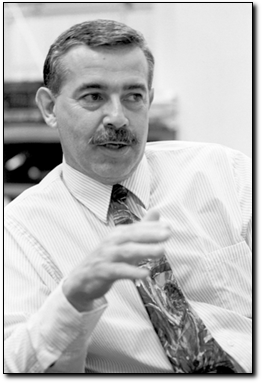 Wildcat File Photo
Arizona Daily Wildcat

UA Budget Director Dick Roberts


As if preparing for fiscal year 1999 wasn't enough, UA budget planners are now working to submit a biennial proposal that will take the university into the 21st century.

University of Arizona budget officials will submit the budget plan Sept. 24 to the Arizona Board of Regents for approval. The plan covers the 2-year period from July 1999 to June 2001.

UA Budget Director Dick Roberts and his staff have their hands full, since they are also busy compiling financial statements for the past fiscal year and administering the current budget.

"A major watershed event this year for us is submitting a biennial budget, which some state agencies have been doing for the past five years," Roberts said.

One key advantage of a two-year budget is that it will allow more time to plan for changes in programs and personnel, he said.

"If you know the funding you'll have for the next two years, it really takes a lot of uncertainty out of the planning process," Roberts said.

Arizona's Joint Legislative Budget Committee has already approved $320.3 million in UA appropriations for the current year, an increase of about $11.5 million from last year, according to a state appropriations report prepared by the budget committee in June.

Such appropriations comprised 30 percent of UA's $958.5 million in funding sources for fiscal 1997, the most recent available year.

Another $217 million, or 23 percent, came from federal grants and contracts and $135 million, or 14 percent, from tuition and fees.

But it is the state appropriations process that can make for budget politics, Roberts said.

The process begins in the fall when UA submits a budget to the Board of Regents, which is responsible for reviewing all three state universities' budget requests.

After the regents approve it, the budget will go to the state's Office of Strategic Budgeting and Planning, and then the Arizona Legislature.

"Arizona's state Legislature reconvenes in January for a session of about 120 days. This is the crucible of the budget process, which is the next step after Board of Regents approval," Roberts said.

State appropriations are, in part, funded based on a formula that calculates the increase in "full-time equivalent" students.

"We estimate the number of FTE students at the UA to have risen by about 530 to 550 students this year," Roberts said. "But we have never been completely funded at that rate. Instead we average about 75 percent of that amount." The UA nor-mally requests about $3,600 per full-time student, he said.

For calcu-lation purposes, one full-time equivalent student is a freshman or sophomore taking 15 cre-dits, a junior or senior taking 12 credits or a graduate student taking 10 credits.

There are almost 34,000 such students at the UA this fall, according to university budget records.

The UA faces the same kind of financial constraints a corporation might, Roberts said.

"All three state universities were authorized to issue bonds around 1982 to finance new building construction, which got the state out of financing new buildings," Roberts said. "As a result of these bond issues, you will find that our universities are among the most highly-leveraged in the nation. Our annual debt-servicing requirement is about $20 million."

Leveraging is the practice of borrowing money to structure the university's balance sheet. Debt service is the amount of interest and principal repaid on those loans.

State funding for other special projects is also scarce.

"We have a major need - about $26 million - to renovate and expand the Arizona State Museum, for instance," he said. "Despite this being the only such museum in the state, Maricopa County is the center of the state's political universe, and we have a hard time getting their attention for such funding."

On the plus side, however, "is our building renewal effort," Roberts added.

"We just completed a renovation of the Economics building, built in 1951, for about $3.4 million," he said. "The renovated building now has current audio-visual technology and high-volume air conditioning and is built to current fire code specifications."

Roberts said it is possible that other departments may come forward to submit their own renovation requests if they like what they see in the Economics building.

"In addition to death and taxes, I like to think that there is a third certainty: The UA will be here - probably here at the same location - 100 years from now, so these renovations have a real payoff," he said.

Stuart Williams can be reached via e-mail at Stuart.Williams@wildcat.arizona.edu.