From chalkboards to circuit boards
By Jimi Jo Story
Arizona Daily Wildcat
September 3, 1998


Send comments to:
city@wildcat.arizona.edu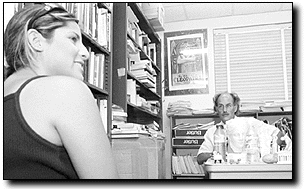 Katherine K. Gardiner
Arizona Daily Wildcat

Classics professor Jon Solomon gives advice to accounting and finance junior Danielle Martinez on an upcoming paper on the Iliad for Classics 220. Solomon said he believes there is no substitute for face-to-face contact with students, despite the conveniences of e-mail.


Chalk and blackboards at the UA are quickly being replaced by electronic mail, video clips and group discussions on the Internet.

Technology has worked its way into the general education curriculum, and there has been a campus-wide push for professors to use new teaching tools, said Jennifer Jenkins, assistant professor of humanities at the University of Arizona.

Many professors and students are using Caucus, an online discussion group moderated by the Center for Computer and Information Technology. Nancy Penn, senior systems analyst for CCIT, said more than 3,600 people at the UA use Caucus.

"There are over 225 conferences in Caucus and 199 of those are for faculty and students in a classroom setting," Penn said.

Faculty supplement classes with computer conferences and online office hours, said Barbara Hoffman, computing manager for instructional support groups at CCIT.
Personal touch
Amelia Tynan, vice provost of UA information technology, said technology should be used as a tool to enhance learning.
"It shouldn't supplant the person-to-person interaction. It is a tool, a supplement to the communication," she said. "This is a way to expand the ability to get in touch with faculty and student-to-student comm-unication."
Sally Jackson, a communication professor who has developed an online interactive conference, said the fear that technological improvements will take the magic out of teacher-student relationships is unfounded.
"People often assume that technology will make teaching impersonal, but that is completely governed by how technology is used," Jackson said. "The trick is to use technology to take in what students say, not just to use it to create another platform for the teacher."
Classics professor Jon Solomon said the use of e-mail and other technology brings students both closer to and farther from their professors.
"The e-mail is handy because you don't have to be available at a specific time. But on the other hand, if someone's trying to get a hold of you right away it's hard," Solomon said. "There's no substitute for personal contact between faculty and students, especially in a lecture course."
Students can use online group discussion to get through to the professor and say, "I need something from you," Hoffman said.
Technology also gives students a chance to work out problems with peers, he said, because they can post questions on message boards and have fellow classmates answer them.
Effectiveness of technology
Tynan said some faculty are now studying the effectiveness of technology in the classroom.
"This is a continuing question that we need to monitor as well as the assessment of student involvement," she said.
Jenkins said since class evaluations do not include questions on the use of tools like Caucus or video clips, it is difficult to know just how students are going to respond.
"I think the students find it entertaining," Jenkins said.
Ben Graff, a biology junior, said he enjoys classes where video clips and slides are used to help teach the material.
"It adds so much to intersperse the information of the modern and the past with the touch of a button," Graff said. "Teachers don't just have to sit up there and lecture."
Solomon said using technology in his 600-student Classics 126 course can be frustrating at times.
"It (the university) puts equipment in the classrooms and doesn't have anybody to maintain it," he said. "Almost every day something happens, and after 50 minutes of that you're reduced to a mumbling, cursing idiot."
Brian Slocum, who was in Solomon's class a day that the overhead, microphone, air conditioning, lighting and video projectors were on the fritz, had mixed feelings about the technology.
"It works good when it goes well, but if it doesn't work, it's stupid," the business sophomore said.
Brian White, a finance junior, said he uses e-mail regularly to communicate with his professors.
"It's a good way to keep in touch and the technology is great when it works," White said.
"I'm very appreciative that it (the university) spent all this money renovating the lecture halls, but it has got to work right all the time," Solomon said.
Tynan said she realizes the frustration of professors working with breakable equipment.
"The faculty support and continuing technical support is part of what will continue to improve," she said. Tynan also said the university is looking into ways to keep the equipment constantly up and running.
Jimi Jo Story can be reached via e-mail at Jimi.Jo.Story@wildcat.arizona.edu.