American Indian Studies program graduates first class of this year
By Liz Dailey
Arizona Daily Wildcat
September 3, 1998


Send comments to:
city@wildcat.arizona.edu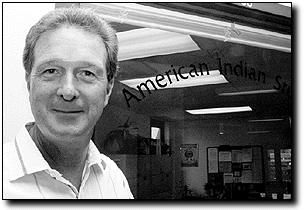 Katherine K. Gardiner
Arizona Daily Wildcat

American Indian Studies Program director Joseph Stauss states that in order for the department to offer a baccalaureate program it would need a larger budget, more space and approval from the Board of Regents.


The University of Arizona's American Indian Studies doctoral program - the first of its kind in the nation - will graduate its first class this year.

In 1996, the UA became the first institution of higher learning in the country to offer a doctoral program in American Indian Studies. Now two years old, six students are enrolled in it.

The program has offered a course of study for master's degree students since 1982.

Rick Juliani has spent a year working towards his master's degree in the program, which has grown rapidly over the past five years.

When it started, there were a little more than a dozen students enrolled. Now in its 16th year, enrollment in the program has tripled to accommodate 45 students.

"When I arrived in 1990, the program was small. It has really grown in the past five years," said David Wilkins, an associate political science professor who teaches at least one American Indian Studies course a semester.

The UA, however, does not offer a bachelor's degree program in American Indian Studies.

Joseph Stauss, director of the American Indian Studies program, said there are good reasons why such a program is not offered.

"The faculty discussed a baccalaureate program for several years," he said. "We have 10 core faculty members right now."

Stauss said that in order to offer a bachelor's degree, the number of faculty members would have to increase, the budget would have to grow and more classroom space would be needed.

He added that after taking those steps, there would be a waiting period of about two years before it could pass through the Arizona Board of Regents.

Stauss said he is not opposed to starting a baccalaureate program, but said he would prefer to keep a watchful eye on the doctoral program because it is so new.

"There are about a dozen BA programs in the country, or possibly even more," Stauss said.

Undergraduates can choose an American Indian Studies course to fulfill general education requirements. The course "Many Nations of Native America," taught by Tsianina Lomawaima, has 281 students enrolled.

Stauss said UA administration has provided exceptional support, partly because there are 21 federally recognized tribes in Arizona with 247,000 members.

"Provost (Paul) Sypherd and Vice President (Michael) Cusanovich granted tenure for our faculty," he said. "They have shown tremendous support. The administrations sees the commitment of the tribes here."

Two graduate students in the American Indian Studies program, Juliani and Joseph Martin, expressed the same dedication. They are both teaching assistants for the Tradition and Cultures 101 class.

"We get a chance to teach. The more teaching the better. Dr. Lomawaima values our input," Martin said.

Juliani expressed the same excitement.

"I love it - it's fun to interact with the undergrads," Juliani said. "I really enjoy teaching."

Wilkins said most of the master's graduates in the American Indian Studies program go on to find jobs fairly quickly.

"Some go on to law school, or teach at tribal colleges," said Wilkins. "Political science is finally realizing that the issue of race is not going away."

Liz Dailey can be reached via e-mail at Liz.Dailey@wildcat.arizona.edu.