Dorm association president spared from recall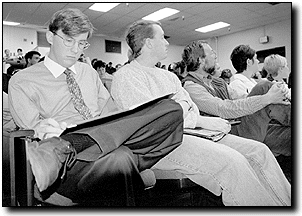 Eric M. Jukelevics
Arizona Daily Wildcat

RHA President Matthew Meaker takes notes as the organization's National Communications Coordinator Leeann Kovac (not pictured) presents the case against him at the meeting last night. RHA representatives found that Meaker should not be removed from office for making long-distance phone calls on the organization's dime.


Residence Hall Association members voted last night to reinstate President Matthew Meaker, saving him from possible impeachment after he confessed to making personal phone calls at the organization's expense.

Student representatives from University of Arizona residence halls voted 21-13 to keep Meaker in office.

The decision was met with tears by Rebecca Zilm, RHA's vice president for services, while Meaker remained calm and ended the more than two-hour-long meeting.

"I feel glad that I'm back in office," Meaker said after the session. "I certainly have a greater task at hand to alleviate concerns that people have."

The four RHA executive board members who prosecuted Meaker huddled together after the meeting, their heads down and arms around each other. Later, they walked out the door and refused comment.

The controversy began last month when Meaker admitted during an interview with the Arizona Daily Wildcat that he treated himself and nine other RHA members to a breakfast without seeking permission from his fellow executive board members.

RHA voted to punish Meaker by making him write a public apology letter that was published in the Wildcat on Jan. 29, and demanding that he obtain permission from each executive board member before making an expenditure.

While the breakfast issue was avoided during last night's meeting, Meaker's prosecutor presented meeting attendees with charts and arguments detailing Meaker's admitted violations.

About 50 members of RHA's general body were told that Meaker abused his power and stole from the organization by making more than four hours of personal calls using the association's long distance phone code.

"Our trust has been broken and we feel that Matt will continue to abuse his office in the future," said Leeann Kovac, RHA's national communications coordinator. "He never made any attempt at any time to pay the money back or let the e-board know what was going on."

Kovac, who took charge of Meaker's prosecution effort, said the long-distance calls cost RHA $35.24.

Meaker, who spoke in his own defense throughout the proceedings, said his mother was sick and he used the RHA office phone to call her when she paged him.

"My mom was having medical problems all last semester," Meaker said. "I got paged by my mom and I called my mom."

Kovac charged that Meaker never would have paid back RHA for the calls.

"We feel that if Matt had not been confronted by our advisers, he would have continued to make long-distance calls and would have made no effort to pay for the calls," Kovac said.

But Meaker said he always planned on returning the money.

"I'm telling you I was willing to pay it back, and I was going to pay it back," he said. "How can you determine that unless you jump into my mind?"

In his closing statement, Meaker told the audience that he has devoted himself to RHA and would not betray the organization.

"Was I intentionally stealing from the organization as was charged?" Meaker asked. "Why on God's green earth would I choose to do that?"

After closing arguments, two representatives from each dorm voted to reinstate Meaker as president.

"I have a tough road ahead in earning back the respect of the organization and the e-board members," Meaker said after the vote.
---

Read the history of the RHA spending debacle through articles in the Wildcat's archives: