UA officials pitch Capital Campaign to faculty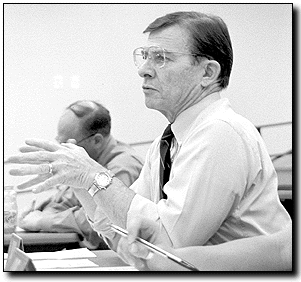 Randy Metcalf
Arizona Daily Wildcat

UA President Peter Likins speaks about the UA Capital Campaign at the Faculty Senate Meeting yesterday at the Law College. Likins said obtaining gifts and building the community are two issues that campaign officials are focusing on.


UA officials said yesterday the university's Capital Campaign aims to build community while raising millions of dollars in donations.

"At the very end of the game, we will raise as much or more money than we target," UA President Peter Likins told Faculty Senate members yesterday.

While that target has not been set, Likins said after the two-hour session at the University of Arizona's College of Law that the UA will garner a minimum of a half-billion dollars.

"It will be at least five hundred million dollars," Likins said. "It could be significantly more than 500."

But Likins and UA Foundation President Richard Imwalle stressed that the university's campaign is not restricted to collecting donations.

"It's about unifying the campus community so we're all in unison about bettering the University of Arizona," Imwalle said.

Likins added that the UA should use the campaign to "build a more cohesive university."

The campaign, Likins said, is currently in its "quiet phase." Officials project that the campaign will shift into high gear in January, he said.

With last year's fundraising efforts garnering $75 million, Likins said $500 million was the minimum of what the campaign might raise before its projected ending date in July, 2004. He said it was still too early to determine an exact goal for the campaign.

"One of the things you do is make a judgment as to what your goals are and we have simply not made that assessment," he said.

Rick Frisch, UA Foundation capital campaign coordinator, said the university must pinpoint donors and continue to petition their support.

"We need to acquire gifts from our current list of donors and they need to be larger gifts," Frisch told the Senate. "We don't do enough research on who knows us. We have to do a better job of identifying people who have the capacity to support us."

In other Faculty Senate business, Likins spoke about the upcoming Arizona Joint Legislative Budget Committee hearings.

The JLBC has proposed slicing $6.5 million from the UA's budget, a plan that faculty leaders and Likins have repeatedly condemned.

UA officials will testify next week before the legislature in an effort to stop the JLBC's proposal from becoming law.

"Please share my view that this is a time of great opportunity for us," Likins said. "We have been given the gift of a very unreasonable proposal."

Likins said legislators from southern Arizona have been supportive - an attitude he hopes will also come from the Tucson community.

"We have an opportunity...to enlist the long-term support of the larger community which may be very helpful to us," he said.
---