UA steps up cash machine security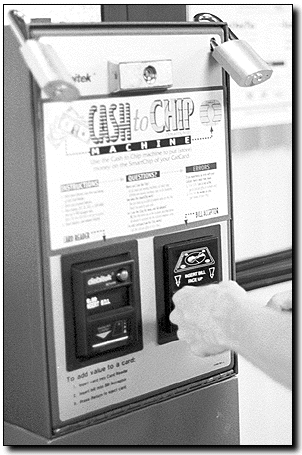 Jennifer Holmes
Arizona Daily Wildcat

After a string of burglaries in the first week in February, CatCard Cash-to-Card machines were equipped with locks to prevent further break-ins. Machines located outside were removed as another preventive measure.


After a rash of robberies this month, the CatCard director said yesterday the UA will spend about $5,000 to adequately secure campus Cash-to-Card machines.

While CatCard Director Liz Taylor refused to disclose the amount of money nabbed from 15 machines for "security purposes," she said it is "under $1,000." Taylor added that her department was ultimately responsible for covering the costs of the thefts and new technology.

University Police Cmdr. Brian Seastone said yesterday the department still does not have any suspects or leads on the various robberies. The machines allow students to put cash toward food purchases or photocopies on a CatCard's computer chip.

No more thefts have been reported since the UA Lockshop added two new padlocks to each machine last Friday, Taylor said.

But while the campus Cash-to-Card machines inside university buildings are back in business with the added security, officials were forced to remove four terminals located outside buildings, Taylor said.

"We just won't have machines outside again," Taylor said. "We don't want machines that aren't in public areas where people can have time to break into them."

CatCard officials plan to relocate the damaged terminals, which were near the Harvill Building, the Main Library, the Education Building, and Biological Sciences West.