Transgender writer urges compassion from UA students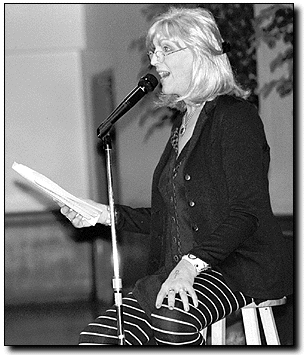 Eric M. Jukelevics
Arizona Daily Wildcat

Kate Bornstein speaks last night in the Senior Ballroom of the Memorial Student Union about transgender and gay and lesbian issues. Her speech entitled "Cut and Paste" addressed her life and transformation into a woman.


A transgender writer from New York City encouraged UA students last night to have compassion for themselves and others, and get beyond "junior high."

Kate Bornstein wore a blond wig and striped stockings as she discussed the constant redefinition of gender roles inside and on the margins of the gay community

"I'm not a man, I'm not a woman," Bornstein said at the seminar sponsored by the Bisexual Gay and Lesbian Association. "I like being a girl the best. What does that make me?"

Bornstein, who has directed and acted in sundry plays and written three books, spoke with humor to an audience of about 100 students in the Arizona Ballroom.

Her presentation, "Cut N Paste," addressed the acceptance of unconventional gender in society. Blue books and pencils were handed out during the show to quiz audience members on their own identities and relationships.

"I hope we can all find common ground," the entertainer said. "The key is compassion - compassion for yourself first."

In an interview after her performance, Bornstein said there are a lot of brave people at the UA, but the "lack of diversity needs to be addressed...that's not healthy."

Alienated from her 25-year-old daughter and divorced three times, the New Jersey native spoke after the show of the difficulty in her relationships with her family.

She said she bought into gender stereotypes, which caused her to turn to drugs and alcohol while in college - activities which almost got her expelled from Brown University.

"I desperately did not want to be a freak," said Bornstein.

She said her experiences have made her stronger as she has become comfortable with herself.

"It is very difficult to hurt me with words," she added.

Bornstein performed from plays and other works expressing how she adjusted to her life before and after her transformation 13 years ago.

She will perform at Opryland in Nashville on Feb. 14 and is working on a new book tentatively titled Cults I Know and Love , addressing cults and cult-like organizations in the United States.

Bornstein has directed about 30 and acted in 60 plays and penned Gender Outlaws, Nearly Roadkill and My Gender Workbook.

She lives on the west side of New York City and continues her work in the theater.