The Wright way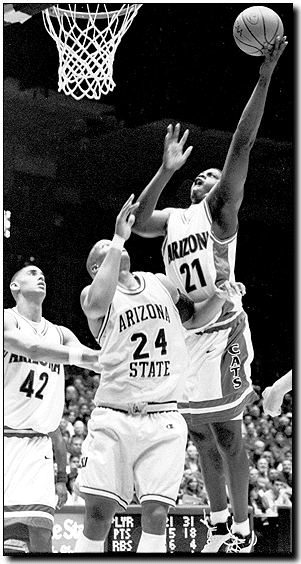 Jennifer Holmes
Arizona Daily Wildcat

Arizona freshman forward Michael Wright (21) goes up for a shot over Arizona State guard Mike Batiste (24) during last night's game at McKale Center. Arizona won 86-80 behind Wright's 22 points and nine rebounds.


Michael Wright has a faded tattoo on his right bicep of the Grim Reaper holding a basketball. Underneath it says "2 Infinity."

While it's unclear what that means to Wright, the inscription might as well apply to the freshman forward's potential after a career night in last night's 86-80 Arizona win over Arizona State in front of 14,524 fans at McKale Center.

Wright scored a game- and career-high 22 points on 8 of 10 shooting and grabbed nine rebounds in 30 minutes, propelling the No. 10 Wildcats (17-4 overall, 9-3 Pacific 10 Conference) to their eighth straight win over ASU (13-11, 5-7) and their 27th consecutive win at home.

"He's a great player," UA head coach Lute Olson said. "Once he gets the ball inside there, he has to punish people."

Not much of a talker, Wright usually explains himself using as few words as possible. He was no different in appraising last night's philosophy.

"You just have to be aggressive and attack the hole," he said with a slight grin, "it'll either be a foul or a basket."
The Box
No. 10 ARIZONA 86, ARIZONA STATE 80
ARIZONA ST. (13-11, 5-7) Crandall 3-6 3-3 11, Lazor 8-20 9-13 26, Batiste 5-17 2-2 12, House 9-22 4-5 24, Mason 0-4 0-0 0, Patton 2-4 0-0 4, Prewitt 1-1 1-2 3. Totals 28-74 19-25 80. ARIZONA (17-4, 9-3) Wright 8-10 6-10 22, Jefferson 2-8 1-2 6, Bramlett 6-10 0-1 12, Douglas 4-9 0-1 10, Terry 5-12 9-10 21, Wilson 1-2 0-0 2, Wessel 0-0 0-0 0, Edgerson 5-5 3-4 13. Totals 31-56 19-28 86. Halftime - Arizona St. 38, Arizona 35. 3-Point goals - Arizona St. 5-19 (Crandall 2-4, House 2-7, Lazor 1-5, Batiste 0-1, Mason 0-2). Arizona 5-10 (Douglas 2-4, Terry 2-4, Jefferson 1-2). Fouled out - Edgerson. Rebounds - Arizona St. 38 (Batiste 11), Arizona 38 (Wright, Bramlett 9). Assists - Arizona St. 13 (Lazor, Batiste 4), Arizona 19 (Terry 7). Total fouls - Arizona St. 20, Arizona 16. A - 14,524,

Wright had more room than usual last night with Arizona State doubling up against UA center A.J. Bramlett almost the entire game, even when he didn't have the ball.

"They were doubling A.J. before the ball even got there," said senior point guard Jason Terry, who finished with 21 points, five rebounds and seven assists. "You can't tell by his facial expression, but (Wright) works hard every night."

But with all the success Wright and Terry had, the Sun Devils never trailed by more than seven points, even owning a three-point lead at halftime.

ASU grabbed 20 offensive rebounds and the tandem of Eddie House and Bobby Lazor exploded in the second half to score 37 of the Sun Devils' 42 second half points.

"House is the toughest guy to guard in the league, no question about it," Olson said of House. "He just never stops moving without the ball."

House, who finished with 24 points and six rebounds, was guarded by the freshman tandem of Ruben Douglas and Traves Wilson for most of the game. But with six minutes left, Olson turned to his best defender in Terry to stop the junior guard, who had started to get hot.

"It was just reassurance to make sure he didn't hit any big shots," Terry said.

The tactic worked, as House only had two points after the switch.

After a Lazor free throw tied the game at 74 with 2:59 left in the game, the Wildcats finished with a 12-6 run capped by a Douglas slam with 0.2 seconds left.

The dunk was only the final touch on the second good game in a row for Douglas, who finished with 10 points and four assists. He also blocked House's three-point attempt as the Sun Devils were making their last ditch run.

"That was a big block for us," Olson said. "Ruben also hit a couple threes that were very important to us."

Olson said Douglas' performance was an example of what the Wildcats need on a regular basis - consistency from players other than Terry, Bramlett and Eugene Edgerson, who contributed 13 points and six rebounds before fouling out with nine seconds left. As Edgerson walked off the court, Terry ran up to him to give him a hug and the crowd gave a rousing chant of "Geeeeene."

"Gene gives us so much energy off the bench, it's unbelievable," Olson said, adding that he wished he had given the junior forward more playing time. "He's doing exactly what we needed him to do."

That seems to be a critical point for the Wildcats, as the six-point win is actually a bigger margin of victory than the team is used to seeing.

"This team is getting us into position to win and we seem to make the plays we need to make to squeeze by again," Olson said. "Time to buy more Maalox."