Terry, Bramlett make it 8-0 against ASU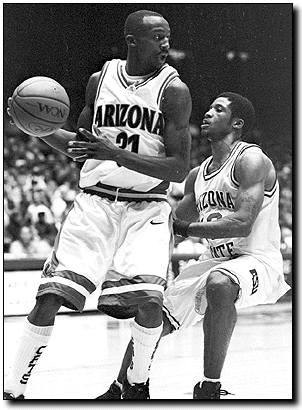 Leigh-Anne Brown
Arizona Daily Wildcat

Senior point guard Jason Terry (31) prepares to drive past an ASU defender during last night's game against the Sun Devils. Terry and fellow senior A.J. Bramlett will finish their UA careers 8-0 against ASU.


Sean Elliot and Steve Kerr never did it. Damon Stoudamire, Miles Simon and Michael Dickerson never did it, either.

After Wednesday night's 86-80 victory over Arizona State, seniors Jason Terry and A.J. Bramlett had completed what those legendary players never did - they went 8-0 against the Sun Devils.

"It's a good feeling," Bramlett said. "I don't know how many people have that record. Against your rivals, you always want to go out on top."

Terry had 21 points and seven assists in 40 minutes and only one turnover. Bramlett started off slowly, but came on strong in the second half to finish with 14 points and nine rebounds.

"It feels great not to lose to your rivals," Terry said. "I told the younger guys that it's mine and A.J.'s senior year, and we don't want to lose to ASU, especially in our last game against them."

The UA-ASU rivalry in basketball has usually followed the pattern of being a close game up in Tempe and a blowout win in Tucson. Almost always, there was never a question about both games being an Arizona victory.

Times have changed, though, and ASU head coach Rob Evans has brought Sun Devil basketball closer to the upper ranks of the Pacific 10 Conference.

"I felt that this was their best team because they're pretty solid at every position," Arizona head coach Lute Olson said. "With those three up front (Bobby Lazor, Michael Batiste and Eddie House), since the time I've been here, they've never had three guys that capable."

Most Arizona basketball games have gone down to the wire this season, and the two seniors and best friends knew this one would not be any different.

"We're just looking forward for a victory any way we can get it," Terry said. "With this team, it's going to be a close game whoever we play."

Bramlett looked at this game as just any other conference game, but he and Terry put some pressure on the younger players, who are trying to start a streak of their own against ASU.

"We should be motivated for every game, especially in the Pac-10," he said. "But we did add a little something to this one because it was our last time playing ASU."

An example of the understanding between the two couldn't have been better than the basket that put Arizona up 82-79 with 36.2 seconds left.

Terry lobbed the ball inside to Bramlett, who then turned in and kicked it in off the glass, all before touching the ground.

"We didn't talk about that in the huddle," Bramlett said. "We just have an understanding for each other in certain situations."

Evans had nothing but praise for Bramlett following the game.

"A.J. is a nice player," he said. "He does what all good players do, produce. He is extremely patient, never rushes plays and that is a sign of a smart basketball player. Arizona is in a position they are in right now because of him."