Women's lacrosse team heads back to California to face UCSB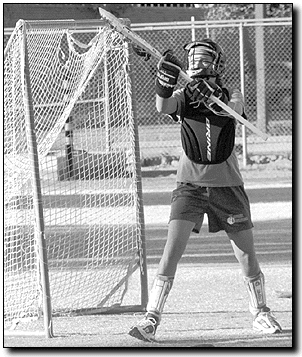 Nicholas Valenzuela
Arizona Daily Wildcat

Freshman women's lacrosse goalie Kim McDonough makes a save during practice last week at Bear Down Field. McDonough had 16 saves against UC-Santa Barbara Sunday in Arizona's 10-4 loss.


It was a short break from the action for the Arizona women's lacrosse team, but now the Wildcats (0-2) will have to head back to Santa Barbara, Calif., this weekend.

Arizona is coming off back-to-back 10-4 losses last weekend in Santa Barbara to Cal-Poly San Luis Obispo and UC-Santa Barbara.

This weekend the Wildcats could face those teams again as they take part in the Santa Barbara Shoot-out, a tournament which UA senior defender Maren Henley said brings in over 40 teams.

"It'll be a really difficult weekend," she said, noting the competition will include almost the entire Western Women's Lacrosse League including regional powers UC-Davis, California, Stanford and UC-San Diego.

The teams will be divided into three divisions, and Arizona will compete in Division I.

"We're just looking for the experience," junior attacker Michelle Bauer said. "Right now we're not expecting to beat everybody. We just need to get out there and play all together. It's so important that we're playing as a team."

The whole team may not be going, though, as freshman goalie Kim McDonough may not be able to travel for unspecified reasons.

Arizona will return home the following weekend to host divisional rival Claremont.