February 11-13, 1999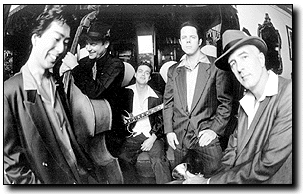 Arizona Daily Wildcat
photo courtesy of Surfdog Records Hello. We are Alien Fashion Show. We1ve come to bring the swingest sounds of the galaxy to the Rialto Theatre Saturday as part of the Mardi Gras Masquerade Swing Ball.
Thursday, February 11
Join Buttercup, Wesley, and Inigo Montoya as they search for the six-fingered man, voyage into the pit of despair, and battle Prince Humperdink. UAB Presents "The Princess Bride" tonight and tomorrow at Gallagher Theatre as their midnight special. As you wish, the cost is $2.50 and the number for more info is 621-4671.
If you're a big fan of Party of Five, then you just might recognize a song called "Free" by a band called Train. It's been featured on the show. If you can't quite remember the words, head on over to the New West/Gotham, 4385 W. Ina Rd., tonight and hop on board. Far Too Jones opens the show, which is 18+, and tickets are $6. Call 744-7744 for more information.
Friday, February 12
As a part of Black History Month, Campus Ministry presents, Praise, a gospel choir tonight at 7 p.m. Get on over to Social Sciences 100 for a soulful celebration of African Americans.
The 7th Annual Lesbian Looks Film and Video Series will show "After the Second Date," and "Treyf" at 7:30 p.m. in MLNG Auditorium tonight. For more information, visit their Web site at www.arizona.edu/~lgbcom/lgbfilm.htm.
Short on cash? Then check out Bargaintown tonight at 9 p.m. at The Plaza Pub, 20 E. Pennington, for the low, low price of $2! Call 882-0400 if you can find 35 cents.
It's 9 p.m. on a Friday and you have no idea what to do... head over to Club Congress, 311 E. Congress, for Big Sandy and His Fly-Rite Boys. They'll musically entertain you and your friends for only $6 a ticket. The people at 622-8848 will dispel the mystery.
Tubes are not just part of the McDonald's Funland. The Tubes are also the original band set that plays at The Rialto Theater, 318 E. Congress, at 9 p.m. tonight. Tickets are $10, so you might want to start saving your Big Mac money. Call 740-0126 unless you're stuck in a tube.
Saturday, February 13
Say didgeridoo five times fast, and you might wind up in the hospital. Save yourself the trouble and go to The Last Annual Northern Sonoran Innerdimensional Didgeridoo Party of the 20th Century. It's at 6:30 p.m. tonight at the International Arts Center, 516 N. 5th Ave. Admission is $10 at the door, and call 628-7063 for more info - like what a didgeridoo is.
As a part of the POG Poets and Artists Series, Erica Hunt and Jen Bervin will give a reading tonight at 7 p.m. at the Dinnerware Contemporary Art Gallery, 135 E. Congress. A $5 is suggested, but no one will be turned away from hearing these eclectic authors. Chax Press at 620-1626 will clue you in.
Mardi Gras comes early to the Rialto Theater when the Mardi Gras Masquerade Swing Ball kicks off at 9 p.m. tonight. It's an all-ages party, complete with a parade, costume contest, a 10-piece swing band called Alien Fashion Show, and Crawdaddy-O. Tickets are $5 in advance and 740-0126 will fill you up in time for Fat Tuesday.
The Broadway classic Fiddler on the Roof comes to Centennial Hall this weekend. Saturday shows are at 2 p.m. and 8 p.m.; Sunday shows at 2 p.m. and 7:30 p.m. Tickets range from $26-38 and are half price for children 18 and under, and students with ID. Call 621-3341 for more info.
Sunday, February 14
La Noche de Amor will help you score this Valentine's Day. Club Congress, 311 E. Congress, presents a night filled with karaoke, a dominatrix, and make-out rooms all set to the salsa beats of Ache Pa' Ti. The festivities begin at 9 p.m., tickets are $5, and 622-8848 will set your heart a flutter.
Monday, February 15
The 7th Annual Conference on the Holocaust begins at noon today with a memorial vigil on the UA mall. Over the course of 25 hours, the names of 22,000 victims will be read. Other events for the week include a photo exhibit and several lectures.
Tuesday February 16
If you're happy and you're wild, watch this film. "Wild Women Don't Have the Blues" will show tonight at MLK 100 from 4 p.m.-6 p.m. as a part of Black History Month. Eleanor Navarro at 621-5665 will give you more info if you're not too wild.
The Conference on the Holocaust continues with the film, "Garden of the Finzi Continis" at Gallagher Theatre at 7:30 p.m. tonight. This classic film about life for Italian Jews during the Holocaust will cost you only $2.50, and 621-4678 has all the info.
Wednesday, February 17
Two roads diverged in a wood and I went to hear Junot Diaz instead. This short story writer from the Dominican Republic will read from his work at MLNG Auditorium at 8 p.m. tonight. This reading is free, and an informal reception will follow. David Penn, at 321-7760 has poetic license to give you more info.
The Cheapshots record on Startime has been described by Saylor Breckenridge of The Saylor Breckenridge Trio (which also includes the Weird Lovemakers' Hector Jaime) as "really stellar." See both the bands tonight at 7 Black Cats, at 9 p.m. for some stellar new wave/garage band rock. And the best part is - the show is free.