unknowns hit it big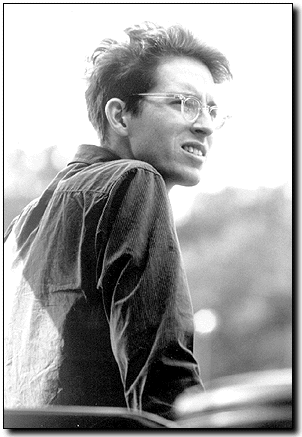 Jason Schwartzman is gazing into the mural-sized mirrors which adorn the ceiling of a gigantic yellow tour bus, making the first of many stops on a nationwide press tour to promote the film, "Rushmore." What Schwartzman and the six reporters who've filed into the bus's somewhat cramped dining quarters see reflecting in that glass is an 18-year-old accidental movie star, an odd little fellow wearing blue tinted glasses and a somewhat bewildered expression.
The glasses are understandable; it is, after all, a sunny morning on the campus of Arizona State University, where Schwartzman and "Rushmore" director Wes Anderson have found themselves fielding questions from a steady string of reporters anxious for information about the film, already hailed by some as "a classic." The expression, however, has roots in the fact that Schwartzman, a musician and recent high school graduate, never planned to be an actor, and certainly never imagined he would one day be starring in a comedy opposite Bill Murray, directed by one of the most intriguing young filmmakers in the business.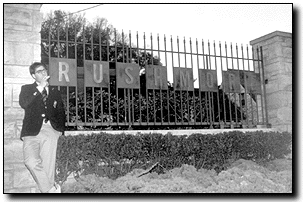 Arizona Daily Wildcat

photo courtesy of Touchstone Pictures. Max Fischer, played by Jason Schwartzman, is an underage smoker.

"I really never decided to start acting," Schwartzman says, launching into a story which has all of the elements of a Hollywood fable. It goes something like this: Schwartzman was out at a dinner party one night where he was spotted by one of nine casting agents for "Rushmore." Undeterred by his lack of experience, the agent sent Schwartzman a script. He was then invited to audition for Anderson, and soon cast in the lead role of Max Fischer, the eccentric yet endearing center of the Rushmore universe.

For Anderson, whose first feature film, "Bottle Rocket," rightfully earned a heap of critical praise and landed him a "Best New Filmmaker" Award at the 1996 MTV Music Video Awards, the decision to cast Schwartzman was based almost solely on intuition. After screening more than 1,000 actors, Anderson and co-writer Owen Wilson (who also co-wrote and starred as Dignan in "Bottle Rocket") were ready to delay the project until the right actor could be found.

"He was different from what I expected to be perfect," Anderson says of Schwartzman. "He could be natural while doing the scenes, and he had a real force behind him. Plus I liked him personally, right away. When you're looking at someone, for a part, you have to think about how they're gonna be for an entire movie. You can't be repetitive. It seemed, with Jason, there would be enough there, to keep it interesting."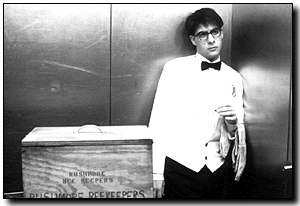 Arizona Daily Wildcat

photo courtesy of Touchstone pictures. Max Fischer has a bee in his bonnet.

That Anderson would take a chance on an unknown is no surprise, considering he, himself, could be considered a bit of a renegade in the breakneck kiss-ass world of filmmaking. A graduate of the University of Texas at Austin, Anderson never went to film school, opting for "regular college," while pursuing a personal study of film greats like Hitchcock and exhausting the film related titles at the UT library. Like Schwartzman, Anderson is somehow existing in a oft-sought but rarely attained Hollywood netherworld, where weird little movies are sometimes made and promoted, where wit, creative direction and good acting occasionally prevail over celebrity posturing, big, shiny explosions and convoluted plot lines.

Watching Schwartzman as Max, it's difficult to imagine another actor in the role, partly because of the actual similarities between the two. Schwartzman was vice-president of his high school, while the more-than-slightly-obsessive Max has the paradoxical distinction of being the president of nearly every club on the Rushmore campus - including the Calligraphy Club, the Beekeeper's Club, the German and French clubs - as well as the school's worst student. Max is also founder of the Max Fischer Players, a theatrical outlet for the extravagant plays Max writes and produces for the school. Himself something of a playwright, Schwartzman began writing "Eugene O'Neill-esque" dramas at the age of 18. Yet Schwartzman contends he and Max have very different theatrical sensibilities. While Max tends to produce elaborate, action oriented pieces, including plays about the Vietnam war and a stage rendition of "Serpico," Schwartzman prefers more talky, dramatic plays with a philosophical bend.

"Max is more like the James Cameron of plays," he says, "whereas I'm more like, um, Ingmar Bergman."

According to Schwartzman, beyond a shared penchant for plays, a slightly eccentric disposition and a common history of private schooling, there remains a very important distinction between him and Max. Namely, Max is a bit of a freak, a fact which serves as a catalyst for the bizarre, sometimes roving action which drives "Rushmore."

When Max develops a colossal crush on British school teacher Miss Cross (played by Olivia Williams), he first channels his somewhat psychotic tendencies into winning her over. Undaunted by her repeated rejections, Max is relentless in his pursuit. When Miss Cross's pen runs out of ink, Max is at the ready with a replacement. When it's revealed that Miss Cross is fond of aquatic life forms, Max endeavors to build a gigantic aquarium on the school's baseball diamond, a stunt which sentences him to expulsion and a dismal existence in (gasp!) a public high school. And once Max learns that his one-time friend Mr. Blume, played by Bill Murray, has secretly begun a romance with the coveted Miss Cross, Max concentrates on wreaking havoc in Blume's life.

"Rushmore" employs the same sometimes subtle and often suprising comedic sensibility that made "Bottle Rocket" such a refreshing and unassuming film. For Anderson, who's built a bit of a repertory of actors and used all of the same production crew in both of his films, "Rushmore" was in many ways a more ambitious project than "Bottle Rocket."

"This was a much more elaborate production, there's a much larger cast," he says. "In 'Bottle Rocket,' I was just kind of working with my friends, the cast was all people I'd known. 'Rushmore' was a whole different kind of environment. It was a little more free, we had a little more autonomy."

That feeling of freedom could stem from the fact that "Rushmore" has the luxury of major studio support from Disney and Touchstone Pictures, something which enabled the director to cast seasoned actors like Murray, Seymour Cassel and Brian Cox alongside unknowns like Schwartzman. Watching crowds of ASU students linger around the "Rushmore" bus, collecting hats and posters from the Disney publicist, it's clear that, for some reason, the studio giants decided to take a full financial risk on a decidedly strange film. Despite the mainstream lure of a name like Murray, "Rushmore," like "Bottle Rocket," is still the kind of movie one would normally expect to see screening only in specialty theaters like The Loft and Tempe's Valley Art Theater.

In many ways, Anderson is living the fantasy of every wanna-be director, media arts student and cinemaphile in the country. Already at work on another script with Owen Wilson, a comedy about a family of geniuses set in New York, Anderson inhabits a rare position as a person granted the opportunity to write and direct his own films, at once retaining creative control and the financial backing of a studio. It's a notion which seems to confound the 28-year-old director.

"Anytime things go well, you're surprised," he says, "because you're always sort of expecting disaster."

For Schwartzman, whose press stint in Tempe was followed by others in 11 cities across the country, as well as appearances on Letterman and "Late Night with Conan O'Brien," the whole experience is somewhat surreal.

"When I first read the script, I didn't think much of it," he says. "I didn't think I was gonna get it. I mean, what are the chances? And now, here I am, on a bus with mirrors on the ceiling. It's like a dream."