Sashay Chenier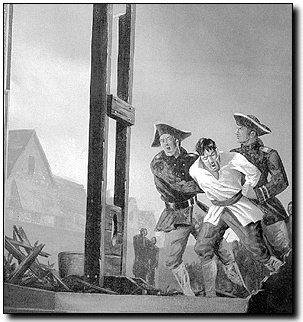 Arizona Daily Wildcat

illustration courtesy of Arizona Opera Off with his head!


by brad senning

The Brooklyn-based rock group They Might Be Giants named themselves after a little-known movie starring George C. Scott because, as they said, people would have had something already in mind if they had named themselves after a popular movie.

The same goes for the opera Andrˇeacute; Chˇeacute;nier (pronounced sheh-nyay), about a lesser-known French poet who died without a trial at the hands of French revolutionaries. The opera is by an equally obscure composer, Umberto Giordano. Since opera is often limited to the grand slammers Verdi, Puccini and Wagner, this is a rather daring move on the part of the Arizona Opera. It may be an operatic experience that offers you something new.

Or maybe you don't get to see much opera at all, so let me explain the storyline. It opens with a ballroom scene in a French Countess' ch‰teau in 1789, the year of the French Revolution. As preparations are made for an aristocratic party, one of the servants, Gerard, declares his disdain of all the rich frumpery and the ch‰teau's decadent owners. Yet when the countess' daughter, Maddalena, enters with a soft siren-song of sorts, Gerard forgets some of his deeper disparagements and admits a secret love for her.

Enter Andrˇeacute; Chˇeacute;nier, the poet. Since poets always get the women, the next part is obvious. Maddalena asks the poet to compose a poem - always a crowd-pleaser - out loud in front of all the guests. To her delight, he starts off with a sort of love poem. But it ends up being a love poem about France. Gerard follows the nationalist surge by tearing off his servant jacket and claiming it as the robe of a slave. But it doesn't get her as steamy as did that poem.

The opera continues into the days after Louis XVI had been guillotined in 1793, when revolutionaries were developing a taste for blood. Gerard is now a Jacobean, one of the radicals who believed that Jean-Jacques Rousseau's ideas about a state of perfect innocence could be realized if only enough heads were cut off. He's still in love with Maddalena, so he assigns a spy to find her. Later, when Gerard has discovered that a love has developed between Maddalena and Chˇeacute;nier, he decides to arrest Chˇeacute;nier on false charges of treason in the hope that to save Chˇeacute;nier from death, Maddalena will give up her body for at least an hour of Gerard's satisfaction.

The love triangle has a decidedly French flavor. Voltaire, who is sometimes close to a roguish humor, did a love story of this sort in L'ing¸nu.. And it's hard to believe that there could be another staging of the French Revolution any better than Les Misˇeacute;rables. But we have to remember that it's a poet who is the hero of this opera, and poets often have good things to say. Besides, when is the last time you heard someone say anything about France and didn't immediately go "yum?" Because France is where french fries come from and anytime you eat something from the place it came from it always tastes better. Maybe this has nothing to do with opera. But one of the heavy hitters of opera, Giuseppi Verdi, said that "French fries are delicious. Any opera that reminds an audience of french fries is off to a good start."