my bloody valentine
By sarah johnson
Arizona Daily Wildcat
February 11, 1999


Send comments to:
letters@wildcat.arizona.edu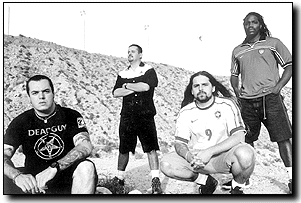 Arizona Daily Wildcat

photo courtesy of Roadrunner Records Sepultura: four guys who love you.


by sarah johnson

Valentine's Day is close at hand. Every storefront is awash with hearts, roses and cute little pink teddy bears. Indeed, it is as if Cupid himself has vomited upon the city. As every boyfriend in the city frantically searches for the perfect gift for his special snookums, The Outback steps forward with the ultimate gift expressing the true spirit of V-Day. Upon the night of Valentine's Day, The Outback welcomes Sepultura, washed-up 80s death metal band, as they join the ranks of what I have affectionately come to call "The Outback's Washed-Up 80s Night." Artists of such high acclaim as Rick James, Vanilla Ice and hair band RATT have been known to grace the halls of The Outback with their melodic dronings. Sepultura, however, bring with them tidings of Saint Valentine.

Sepultura will be playing at The Outback, 296 N. Stone, Sun., Feb.14, with Biohazard, Spineshank and One Minute Silence. The show is all ages and starts at 7 p.m. Call 622-4700 for ticket prices and more information.

But how do these dark, Brazilian-based rockers relate to the snuggly wuggly warmth of Valentine's Day, you might ask? One must only consider the origin of said holiday to find out. Valentine was a priest who, after disobeying the Roman emperors orders to end marriages, was beaten to death with clubs and beheaded. This very story can almost be heard in the band's song "Antichrist" off of Bestial Devastation, as they cry, "born from hell, the supreme force of evil, to destroy the altar and slaughter the Christian's born." In this song the Emperor Claudius becomes "the supreme force of evil" and Saint Valentine is symbolized by the destroyed altar.

Indeed, these boys are well-versed in historical accuracy and command a deeper understanding of Valentine's Day than your typical slack-jawed yokel. Their command of the English language is yet another quality that make these bestial devastators a must-see. Breaking away from the confines of the King's English, these raucous rockers scream, "Churches will be destroy/Crosses will be break'n," ("Antichrist").

Dealing with such heavy topics of the day as death, dying, war, murder and death, Sepultura has a profound understanding of the world and even choose to delve into psychology with their song "Septic Schizo" off of their Schizophrenia album. With this song, they reveal the true neurological imbalance as they proclaim, "I throw up trying to put it out, I try to sleep sitting on the cold ground."

So this Valentine's Day, give her what she really wants. Take her to see Sepultura. And if she asks why you didn't just get her flowers, explain it as Sepultura does in "Rest In Pain: "There's no light and there's no air. The rose's smell corrodes me."

I guarantee, she'll have tears of joy in her eyes when she sees how much you really love her.