Word up
By kevin dicus
Arizona Daily Wildcat
February 11, 1999


Send comments to:
letters@wildcat.arizona.edu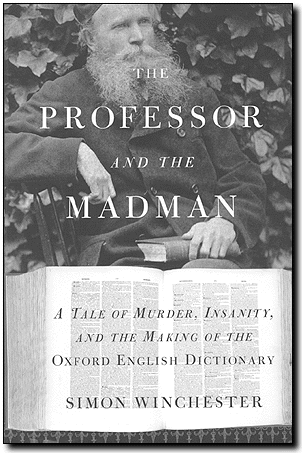 It was a literary project comparable to the building of the pyramids of Egypt. Taking seventy years to construct and utilizing the minds of thousands of contributors from around the world, it is by far the most vast project, both in scope and labor, ever attempted in the English language. And yet, however influential it remains, the Oxford English Dictionary has been relegated to near obscurity. After all, not many home libraries have the space for twenty massive volumes when today we can get perfectly legitimate dictionaries in just one.

The Professor and the Madman (HarperCollins, $22) by Simon Winchester brings its fascinating story back to the front. Far from being a dry history of English lexicography, Winchester explores the humanistic side of this undertaking and introduces us to two diametric individuals brought together by a similar obsession to see this dream completed. This book tells of the tragic and triumphant story of these two men.

Professor James Murray, a brilliant English scholar, was the editor of the OED and was consumed with it for the rest of his life. Dr. William Chester Minor was an American surgeon now living in England who, after coming upon a call for entries to the dictionary, became one of its many contributors. He became just as consumed by the project and quickly grabbed the attention of Murray as his most reliable source. Minor was a prolific researcher, sending nearly 10,000 entries to Murray that not only included definitions, but examples of the word's usage throughout history illustrating its evolution.

Minor was also a killer. In The Professor and the Madman, Winchester details for us the progression of madness in this man which culminates in the murder of a poor laborer whom Minor believed invaded his bedroom while he was asleep. Calling the Broadmoor Asylum for the Criminally Insane as a result of this, Minor spends his time here fighting his mental demons and continuously researching new words.

The relationship between these two men is more fascinating in the fact that for the first 20 years, Murray had no idea of Minor's history. For two decades their close relationship was sustained only through correspondence and any suggestion from Murray that the two meet was repeatedly declined. The reason for Minor's mysterious behavior is revealed to him when he journey's north to meet him and finds his most valuable associate locked in a cell.

Reading almost like a work of fiction at times, The Professor and the Madman explores two entirely different personalities that converge to share a common goal. While dealing with the complex business of creating the OED, this fluidly-written book also deftly handles a complex story of obsession and brilliance that so powerfully affects these two men.