UA takes break from Pac-10 with struggling LSU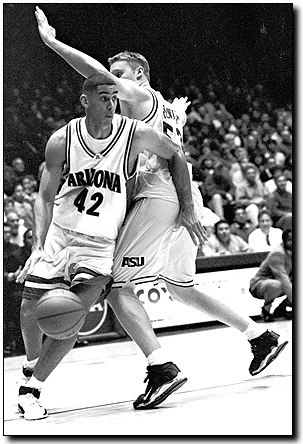 Leigh-Anne Brown
Arizona Daily Wildcat

Senior center A.J. Bramlett drives up against ASU freshman center Chad Prewitt in the 86-80 win over the Sun Devils at McKale Center Wednesday night. Bramlett will go up against LSU junior center Jabari Smith tomorrow at 8:30 p.m.


A quick comparison between the Arizona Wildcats and the Louisiana State Tigers shows very few similarities other than the fact they will both play at McKale Center tomorrow night.

The No. 10 Wildcats (17-4 overall, 9-3 Pacific 10 Conference) have won four of their last five and are finally getting some cohesiveness in their offense with recent contributions from freshmen Michael Wright and Ruben Douglas.

The Tigers, on the other hand, fell to 10-11, 2-10 in the Southeastern Conference, after a triple-overtime 72-71 loss to Alabama Wednesday night. After starting 8-1, LSU has lost 10 of its last 12 and fallen into last place in the SEC West.

While the Wildcats have never faced disciplinary action from the NCAA, the Tigers have been slapped with a postseason ban and scholarship restrictions for alleged recruiting violations involving boosters, high school All-American Lester Earl and about $5,000.
Game an opportunity to 'fine tune'
No. 10 Arizona vs. Louisiana St.
(17-4, 9-3 Pac-10) (10-11, 2-10 SEC)
Tipoff: Saturday night at 8:30 in McKale Center
TV/Radio: Televised on FX (Cox Cable ch. 18), Broadcast on 790 KNST
Game Notes: LSU has lost 10 of their last 12 games, including their last five in a row...Arizona has won 27 consecutive games at McKale Center. . .UA is 1-1 all-time against the Tigers, having won the last contest 87-67 Dec. 7, 1991. . .Arizona will travel to Baton Rouge, La., next season to complete the home-and-home series with LSU.
Starting Lineups
Louisiana State
(10-11, 2-10 SEC)

G 12 Darryl Cooper   2.9 ppg  1.3 rpg
G 22 Maurice Carter 16.9 ppg  5.9 rpg
F 21 Brian Beshara  10.5 ppg  5.8 rpg
F  4 Stromile Swift  6.3 ppg  3.3 rpg
C 52 Jabari Smith   13.4 ppg 10.1 rpg

Arizona
(17-4, 9-3 Pac-10)

G 31 Jason Terry       21.9 ppg 5.6 apg
G  5 Ruben Douglas      7.0 ppg 2.2 rpg
F 44 Richard Jefferson 11.7 ppg 5.1 rpg
F 21 Michael Wright    14.0 ppg 8.7 rpg
C 42 A.J. Bramlett     14.2 ppg 9.6 rpg

Then-head coach Dale Brown has since resigned, having been replaced by John Brady, and Earl is now playing for Roy Williams at Kansas.

LSU will petition the NCAA for a reduction in the penalties, including the elimination of the postseason ban for this season.

But unless LSU wins the SEC tournament, it looks doubtful the Tigers would even make the NIT, let alone the NCAA Tournament.

Bring all those factors together and you get a game that is more of a learning tool than an all-out brawl like when the Wildcats play another Pac-10 team.

"We want to protect our home front and get things going into the (NCAA) Tournament," UA senior point guard Jason Terry said. "We've been beating each other up in conference. To go out and play LSU, that's a break for us."

Asked if there was a chance of a letdown playing a weaker non-conference foe, senior center A.J. Bramlett scoffed at the idea.

"We'll be ready to play," Bramlett said with a smile. "We'll probably work on some new plays, get some guys some opportunities they don't normally get."

But while the Wildcats are obviously confident after having won 27 games in a row at McKale, LSU has an inside game that should at least make things interesting.

Tiger junior center Jabari Smith stands at 6-foot-11, 255 pounds and is coming off a game where he posted 30 points and 15 rebounds. Stromile Swift, formerly a high-ranked recruit who has resurfaced with the Tigers after settling academic difficulties, scored 14 points and blocked 11 Crimson Tide shots.

Fortunately for the Wildcats, though, they have a solid post unit of their own with Bramlett, Eugene Edgerson and Wright, who scored a career-high 22 points to go along with nine rebounds in UA's 86-80 win over Arizona State Wednesday night.

The Sun Devils tried to double down on Bramlett, but the tactic backfired. Bramlett was held to 14 points, but the difference was more than made up by Wright and Edgerson, who added 13 points.

"If they double team one guy, you know another guy is going to step up," Bramlett said.

This also may be a chance for Bramlett to step up his offensive production without the pressure of playing a conference game as he hasn't scored over 16 points since scoring 24 in the first game with ASU Jan. 14.

But Olson said that more than anything else, the game tomorrow night is about holding home court, paying attention to all the details and fine-tuning the defense heading into the last three weeks of the regular season.

"We have five more games at home and we need to make the most of it," Olson said. "We need to use every game we have to get better and that's what we'll do Saturday night."

Seth Doria can be reached at Seth.Doria@wildcat.arizona.edu.