Women's hoops take on Sun Devils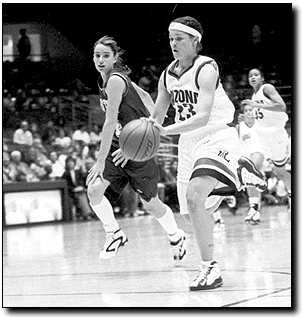 Nicholas Valenzuela
Arizona Daily Wildcat

Junior guard Felicity Willis (23) dribbles down the court during the game against Washington at McKale Center Feb. 4. The women's basketball team will play Arizona State in Tempe tomorrow night.


The UA women's basketball team travels to Tempe tomorrow night to take on Arizona State. Arizona (12-8 overall, 7-4 Pacific 10 Conference) has won six of its last seven games, including its last three. The Wildcats are coming off a sweep over Washington and Washington State at home last weekend.

ASU (10-10, 4-7) also swept the Washington schools, ending a three-game losing streak. Freshman Theresa Jantzen was named the Pac-10 Player of the Week after averaging 14.5 points and 9.5 rebounds last weekend.

"We're very excited," UA head coach Joan Bonvicini said. "This is one of the two times you play only one game a week, and we gave the players a day off yesterday (Wednesday) as a reward for the sweep last weekend. It gave them a chance to recharge their batteries."

Arizona won the previous meeting with ASU in Tucson 70-61. Angela Lackey scored 18 points in the win that catapulted Arizona into an earlier three-game winning streak.

"Both teams are playing well right now," Bonvicini said. "Number one: we're playing better because we have five freshmen who are maturing. Number two: we've improved our defense and rebounding.

"ASU looks much more improved and confident. Their post play has improved tremendously, especially after the sweep this weekend."

The Sun Devils' week has not been without distractions, though. ASU head coach Charli Turner Thorne gave birth to a baby boy early Tuesday morning.

Assistant coach Mark Lewis was confident she would be returning to the bench this weekend.

"Barring any medical roadblocks, Charli will not only work on the sidelines Saturday, but she'll probably get in a few practices as well," he said.

Arizona faces a difficult road trip next weekend against Oregon and Oregon State. Arizona will be excited to face the Ducks, who they beat last month, as Oregon is coming off a win over conference leader UCLA at home last weekend.

Those games will have to wait, because a UA-ASU game is never something to overlook.

"We've got to take care of ASU first, and then we'll worry about Oregon," UA junior guard Felecity Willis said. "In previous years, we were able to put ASU away early. Last time, we let them stay in it."

Arizona is currently in fourth place in the Pac-10, a game ahead of Washington and two games behind Stanford. UCLA and Oregon are in first and second place, respectively.

"We're looking forward to going up there," Bonvicini said. "It's a big game, and we need to play well."

The action begins at 6 p.m. at Wells Fargo Arena and will be televised on Fox Sports Arizona (Cox Cable ch. 22).