Build bridges against racism, Cochran says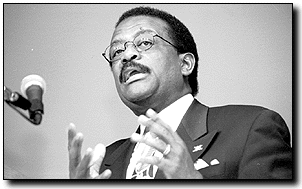 Matt Heistand
Arizona Daily Wildcat

Famed O.J. Simpson lawyer Johnnie Cochran speaks in the Arizona Ballroom Friday evening. Cochran spoke about racial equality to a crowd of about 550 people.


Former O.J. Simpson defense attorney Johnnie Cochran said Friday that Americans should acknowledge racial problems, stop denying they exist and build bridges toward solutions.

"In many ways, it's America's untalked about secret - the issue of race," Cochran told about 550 people in the Memorial Student Union's Arizona Ballroom. "Unless we get a handle on it and immediately learn to bridge this divide in this country, it will also be a problem for the 21st century."

Noticing the division that separates ethnic groups is the first step in progressing, Cochran said.

"We shouldn't run and hide," he said. "We should acknowledge the divide and work together to try to make things better."

Cochran cited several "subtle examples" of discrimination in today's society, such as security guards eyeing young blacks and bosses putting their black employees on display.

"The message: see we have one, we're not racists, no problem here," he said.

Cochran, who was paid $10,000 by the University of Arizona Associated Students Speaker's Board, spoke for about 40 minutes and then took 30 minutes to field questions from the audience.

During the question and answer session, Craig Paynter, a computer engineering junior, asked Cochran if he remained qualified to speak for the race by using "cliché examples."

Cochran said he is capable because he has been black "for all this 60-plus years" and has personally experienced racism.

"I've lived what I talked about here," he said.

Cochran also said that Americans must take the blame for their actions and not deny that problems exist.

"People who are guilty of this denial need to leave their zones of comfort," he said. "I dare say not a day goes by that African Americans are not reminded in one way or another that they somehow are different, that they are sometimes not wanted."

In America, blacks and whites do not interact much even though they typically go to school together, leading people to believe stereotypes, he said.

But Americans would stop buying into stereotypes if schools had exchange programs where people of different ethnic backgrounds could meet and if the media presented blacks as they really are, Cochran said.

"Take it upon yourselves to do something, wherever you are," he said.

UA students can invite a person of a different background to lunch or to their home, Cochran said.

"We build this bridge by starting with your individual contribution," he said. "We all came here on different ships but we're all here together now."

Cochran, known world-wide as part of the famous defense team that led football star O.J. Simpson's path to acquittal, did not mention his client during the speech.

Ryan Rosensteel, ASUA's administrative vice president, asked audience members Thursday not to questions about the trial. The crowd complied, as attendees stuck to questions about Cochran's pre-set topic.

Muriel Sweet-Payne, president of Intra-Faith Women's Christian Coalition International, asked Cochran if whites can be victims of racism.

Cochran said he thinks any race can experience discrimination, adding that he represented Reginald Denny, a white truck driver whose beating by black males during the 1991 Los Angeles riots captured national attention.

"I wouldn't think very much of myself if I couldn't represent this man (Denny) who's a victim, who's white," Cochran said.

After the speech, Robin Lemon-Soape, interim assistant dean in the department of African American students, presented Cochran with a plaque on behalf of the UA.

"The University of Arizona presents this award to Johnnie Cochran in recognition of your contribution to the legal profession," the plaque stated.

Rachael Myer can be reached via e-mail at Rachael.Myer@wildcat.arizona.edu.