Gems of Knowledge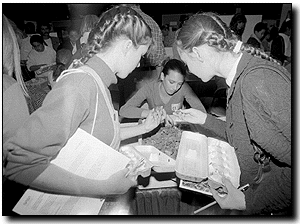 Keren Tully
Arizona Daily Wildcat
Communication sophomore Melissa Fulton shows Jennifer Faulkner (left) and Elizabeth Stevens gems of donated samples from local mines and dealers at the Junior Education Program as part of the Tucson Gem and Mineral Show this weekend. The program was sponsored by UA's Society of Earth Science Students, a club in the Geoscience department.
Ten-year-old Josh Montijo has been building his rock collection for a couple of years. So far, he has gathered about 10 shiny and exotic rocks that he likes to touch.
And thanks to the University of Arizona's Junior Education Program that taught children this weekend about geology at the Tucson Gem and Mineral Show, Montijo was able to add to his stock.
Montijo, a fourth-grader at Maldonado Elementary School, was one of about 5,000 children who groped rocks, peered through microscopes at sand, leered at dinosaur fossils and stared at Mars through 3-D glasses.
About 50 members of the UA Society of Earth Science Students club help run the program. They work almost year-round to prepare for the event, held at the Tucson Convention Center.
The children are taught about rocks and minerals by more than 250 UA geology students and some club members, said Michelle Wagner, the event co-chair.
UA students and faculty conduct the Junior Education Program to capture the attention of Tucson children and teach them about geology, said earth science education senior Jim Lobley, the other program co-chair.
"If we put these displays out, they can be used by the parents as teaching tools and (help them) interact with their own kids," said Lobley, who smiled when he saw a father discuss geology with his child. "I really like to see that happening."
Another young visitor, six-year-old Ariel Bryant, said she has never looked through a microscope.
Bryant, a Maldonado Elementary School first-grader, said she liked inspecting sand because of "its colors" while she toyed with the microscope magnification levels.
Kelly Gregan, a UA communication sophomore, said 15 to 20 children asked her different questions about quartz during a period of one hour.
"It is fun for me," Gregan said. "I think it is important for children to learn about the earth around them. Hopefully, they will be influential because my generation wasn't."
Pete Kresan, adviser for the Society of Earth Science Students, said all the rocks and minerals were donated by local gem dealers and mines.
Each year, more specimens are donated and the quality improves since the program's conception five or six years ago, he said.
Program coordinators allowed the children to fill an egg crate with rocks and about one ton of minerals was given to the children this year, said Kresan, a geosciences professor.
"It is a fantastic opportunity for undergraduates at the U of A and kids and parents to have hands-on-activities," said Susan Beck, a geosciences professor.
"This is like a field trip for us," said Sierra Vista resident Laura Meyer, 45, who home-schools her nine-year-old son Scott.
Scott Meyer, a fourth-grader, said the program "might" raise an interest in geology, as he peered through 3-D glasses.
Geosciences junior Mandi Lyon, vice president of the Society of Earth Science Students club, said the teachers think the program is "cool."
"They don't have resources for this," Lyon said. "They can't get their hands on good minerals."
Rachael Myer can be reached via e-mail at Rachael.Meyer@wildcat.arizona.edu.